Daniel McCoy
Albany County Executive
• Hometown: Albany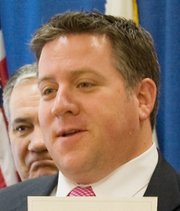 What are you listening to these days?
"80's on 8" on Sirius, Harry Connick Jr., Toby Keith, Frank Sinatra and Jay Z.
What have you been reading?
"The Power Broker: Robert Moses and the Fall of New York" by Robert A. Caro.
What have you been watching on TV?
"Modern Family," "The Amazing Race," "The Blacklist" and "Parks and Recreation."
What was the last movie you saw?
"Frozen" with my daughter.
What would your dream vacation be?
Anywhere on a warm, sandy beach.
What are some of your hobbies?
Skiing with my kids, camping, golfing and collecting commemorative coins.
What would your last meal be?
Chicken parmesan.
Who would you most like to meet, dead or alive?
Martin Luther King Jr. and Pope Francis.
What is something you think most people would be surprised to learn about you?
I took karate for several years.

Vote on this Story by clicking on the Icon