In a former life, Heather Dwyer was a senior executive at an investment firm in an office park. After 14 years, she decided to take a break.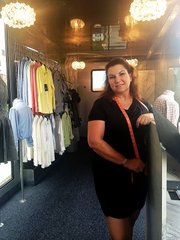 "It was a great place to work, but heaven forbid you needed to run out and buy something," she said. "I never had the time. I didn't even buy my own clothes. My secretary did, and if I didn't like something or it didn't fit, it went out with the 5 p.m. parcel pick-up."
Dwyer decided to take a vacation from her busy life. She wanted to travel and have some time to herself, so she took a trip some might compare to the novel "Eat, Pray, Love."
It was while climbing through the Himalayan Mountains in Nepal, Dwyer finally thought she had decided to go back to work. She was thinking of hiring some new assistants, and was figuring out her new schedule when she stopped herself.
"I just thought it doesn't have to be this way," said Dwyer. "I can make a change."
Thinking back to her former hectic schedule, she came up with the idea for a mobile boutique that could travel anywhere but would especially cater to the employees of office parks. Dwyer was still on her trip when she began making plans and drawing sketches of the boutique.
The original plan was for the shop to be pulled on the back of a semi-truck. Those plans soon proved difficult, so she abandoned that idea but kept the name. Dwyer then opted to buy a large pick-up truck and had a custom-made trailer built to fit her needs.
"I wanted the inside to look like any small boutique one would see in downtown Saratoga or at Crossgates Mall," said Dwyer.
Although there are some products inside, most items are custom-made.
(Continued on Next Page)
Prev Next
Vote on this Story by clicking on the Icon