Caroline Isachsen
Owner, North Albany Studios/local musician
• Current residence: Delmar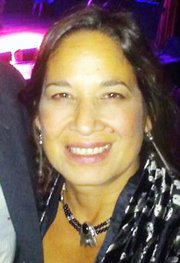 What are you listening to?
Right now, I'm listening to Gangstagrass, Elephant Revival, Brothers Comatose and Chick Corea Acoustic Band.
What are you watching on TV?
I watch "Person of Interest." I watch "Elementary," and I watch the CBS Morning News show with Charlie Rose. I also love watching game shows.
What are you reading?
I'm reading some nonfiction about volunteer recruitment. I don't have any novels cracked at the moment, but I mostly read mystery novels and detective stuff.
What was the last movie you saw?
The last movie I saw was "Hercules," and the other movie I saw that evening was equally silly, Hollywood fluff.
What are some of your hobbies?
I love gardening. I just started keeping bees. And I love making art with found objects.
What is your dream vacation?
Sten (my husband) would like to go to Brazil, and I would like to check that out.
What would your last meal be?
I would want some really good pate and some really good olives. Maybe a little piece of fish. I really have simple tastes.
Who is someone you would you like to meet, dead or alive?
I would like to see my dad again.
What is your favorite local memory?
Jamming with Rick Danko and other members of The Band at the Tiger Pub (now Upstate Concert Hall).
What is something people would be surprised to learn about you?
That I'm an introvert.

Vote on this Story by clicking on the Icon