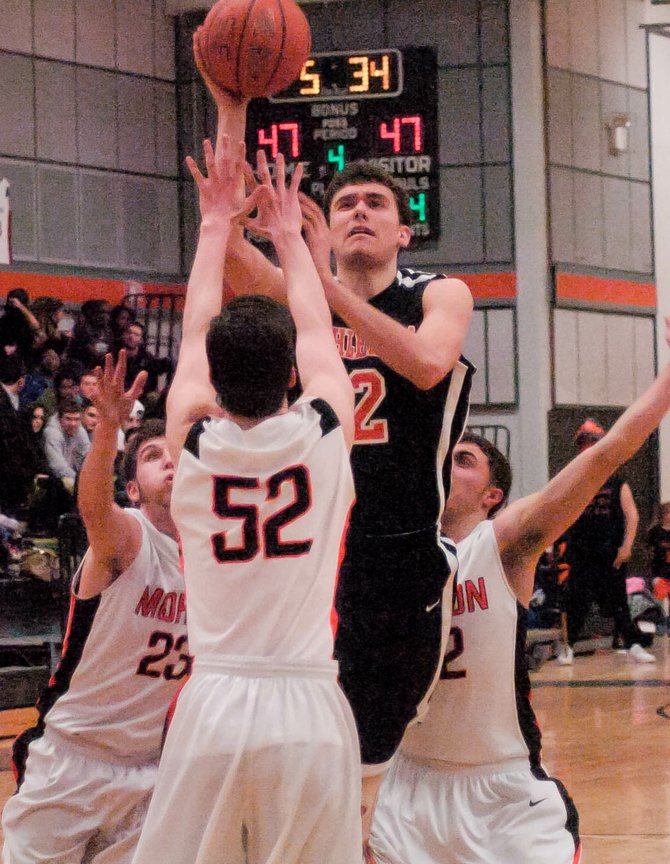 ROTTERDAM — Ben Zonca made his presence known at the right time.
The junior forward hit a non-traditional four-point play with 1:27 left in the fourth quarter to help Bethlehem pull away for a 67-59 victory over Mohonasen in Friday's Suburban Council South Division boys basketball game in Rotterdam.
The victory ended Bethlehem's three-game losing streak and gave the Eagles (5-8 league, 6-9 overall) a confidence boost entering the final three games of the regular season.
"It was good to get a win," said Bethlehem coach A.G. Irons. "Mohonasen's (2-13) record doesn't reflect the hustle and the talent they have."
The key sequence of the game began at the other end of the floor when Mohonasen's Michael Fusco was called for a charge as he drove for what could have been a layup that cut Bethlehem's tenuous lead to 57-56. Instead, the Eagles got the ball back with a 57-54 lead.
"There are probably 15 calls a game that I wish (the referees) didn't call," said Irons. "Some calls go your way, and some calls don't."
Zonca took matters into his own hands on Bethlehem's possession. He hit a shot as he was fouled near the basket to put the Eagles ahead by five points. Mohonasen coach Ken Dagostino was then whistled for a technical foul as he protested the original foul call, which gave Zonca three free throws.
Zonca made the first two foul shots and missed the third, but it was enough to give Bethlehem the breathing room it needed to pull out the victory.
"Ben's been great for us all year," said Connor Morrelli. "He's been great underneath (the basket) hitting tough shots and grabbing rebounds and doing all the dirty work."
Bethlehem trailed Mohonasen by as many as five points in the third quarter before John Sica got on track. The junior forward -- who recently returned after missing several games with tendonitis -- scored five of the Eagles' eight points late in the third quarter to put Bethlehem ahead 42-39. Only a Jeffrey Wicks three-pointer with five seconds left in the period allowed Mohonasen to pull even entering the fourth quarter.
(Continued on Next Page)
Prev Next
Vote on this Story by clicking on the Icon