GUILDERLAND — The Guilderland Central School District offered community members a chance to weigh in on more than $2.3 million worth of potential reductions to next school year's budget before board members pare down the list.
The district held a "community conversation" Wednesday, Jan. 29, covering its 2014-15 budget process to date and presented a double-sided paper of program reductions, along with nearly $500,000 of additions, and another document explaining the rationale behind each potential change. Superintendent Marie Wiles stressed changes presented were only preliminary ideas on how to close the district's projected $1.8 million budget gap.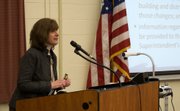 The district would need to raise property taxes almost $3.5 million to cover increasing expenses and declining revenues, but staying within its property tax levy limit only allows for an increase of $1.65 million.
"We have a gap, or shortfall, of $1.8 million to cover, and we have very limited options for doing that," said Assistant Superintendent for Business Neil Sanders.
State aid to the district is increasing almost $175,000 and totals nearly $21.3 million.
District officials did not say if board members were weighing to exceed its tax levy limit, which would require a supermajority of voter approval. The recommended reduction of appropriated fund balance usage, or spending its reserves, is around $855,000 from this school year and totals $1.73 million.
Sanders also noted the district was recently deemed "susceptible to fiscal stress" by the State Comptroller's Office.
"As we've all labored under the economic downturn since 2008, things have gotten increasingly difficult for school districts and municipalities," Sanders said.
Sanders said the district has received "competing messages" from the governor and comptroller, with the governor urging to spend down fund balances as the comptroller is urging not to exhaust them.
"We have been aware of the stress that's placed on the district and how we look at utilizing those resources we have available to us," Sanders said. "The district does remain in good financial standing, and I think the best evidence I can present of that is I am standing here today instead of my replacement."
(Continued on Next Page)
Prev Next
Vote on this Story by clicking on the Icon