COLONIE — Nearly every Capital District state legislator sat and listened to the pleads of educators, students and school officials to do more than ease off funding cuts to school district and return aid promised several years ago.
The regional forum, "NY Schools Still in Fiscal Peril: Our Kids Can't Wait Another Year," drew around 1,000 people to South Colonie High School on Thursday, Jan. 30, with a gym opened as an overflow room to broadcast it. The event followed up on a similar call to action last year at Columbia High School rallying to end the Gap Elimination Adjustment, commonly known as the GEA, and return prior funding held back.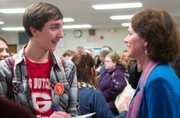 The 47 school districts across the Capital District, representing more than 112,000 students, have lost $387 million in state aid through the Gap Elimination Adjustment over the past four years. Panelists at the event, consisting of superintendents, school board members, teachers and students, outlined how cuts have affected programming and what opportunities have been, or could be, lost.
South Colonie Central School District Superintendent Jonathan Buhner said there are two "very simple" choices facing public education. State lawmakers can return around $8.5 billion withheld through the GEA for "other state purposes," or remain on the same "destructive path."
Buhner said continuing the GEA is not an acceptable choice.
"I, personally, will not stand by to witness the loss of a generation's potential," Buhner said. "Most would agree the answer to the state's financial dilemma is not to permanently defund our public schools, but rather invest appropriately and expect excellence."
Gov. Andrew Cuomo's proposed 2014 state budget holds more than an $800 million increase in state aid to schools, but district officials criticize the boost as too small and said funds are not distributed equitably. Most school districts are receiving less state aid than what was received five years ago, alongside demands imposed through the state-mandated tax levy cap.
(Continued on Next Page)
Prev Next
Vote on this Story by clicking on the Icon