BETHLEHEM — The Albany County Sheriff's Department has arrested the former treasurer of the Selkirk Fire Department's House No. 3 on charges she allegedly stealing more than $18,000 from a fire department savings/checking account.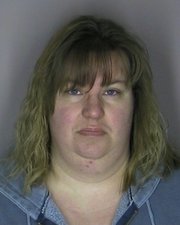 On Friday, Feb. 7, members of the Albany County Sheriff's Office Professional Standards Unit arrested Heather Lynn Burns, 38, of Selkirk. She is the former treasurer of the Selkirk Fire Department's House No. 3 and was responsible for accounts from January 2012 to October of 2013. Officials said the case originated when the fire department discovered unauthorized direct payments to a cellular telephone company from their checking/savings account.
Sheriff's investigators conducted a three month investigation, which led to the discovery of more than 40 unauthorized transactions from the fire department's checking/savings account over the past two years. The unauthorized transactions consisted of money transfers, checks written to cash, checks written out to Heather Burns, cash withdrawals, direct web payments to credit cards, utility companies and insurance carriers.
Burns turned herself into sheriff's investigators with her attorney and was charged with grand larceny in the third degree, a class "D" felony. Burns was arraigned in the Town of Bethlehem Court by Judge Ryan Donovan and was released on her own recognizance.
Albany County Sheriff Craig Apple said the thefts seem to be isolated incidents and they do not believe other family or company members were involved.
"This is a very sad case," said Apple. "We know the family has been involved with Selkirk Fire for a long time."
The Selkirk Fire Department and Selkirk Fire District said the money was raised by the company and not taxpayer funds.
"The Selkirk Fire Department is a close-knit family, and we are all saddened by the actions of one individual. The impact of those actions not only effect the members of the Department but the members of the South Bethlehem Community," said Chairman Charles Wickham of the Selkirk Fire District.
(Continued on Next Page)
Prev Next
Vote on this Story by clicking on the Icon