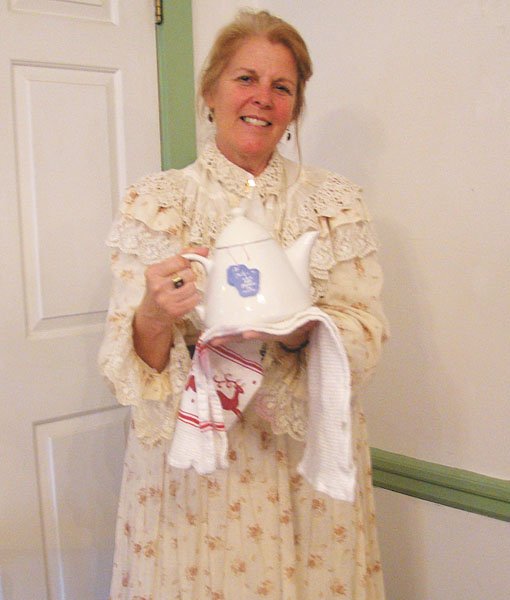 Sue McLane was born in a time of poodle skirts, bobby socks and beehive hairdos, but one look at her and you would think she just stepped off the Titanic.
McLane was drawn to the Victorian era's more simple way of life in the 1980s when she came across a Victorian dress at an antique auction.
IF YOU GO
• What: Victorian Tea Party
• When: Tuesday, Feb. 18, from 10 a.m.-noon and 1-3 p.m.
• Where: Brookside Museum, 6 Charlton St., Ballston Spa
• How much: $10 (recommended for ages 6-14)
• Info: email: aclothier@ brookside museum.org
"I was in the antique's business and at an auction buying furniture when I bought my first Victorian dress," she said.
It was the dress that sparked an immersion of Victorian life for her. Not only does McLane's atire resemble a character from "A Christmas Carol", but her passion has grown into a desire to teach others about the era also.
The Johnstown woman, known in the Capital District as "The Victorian Lady," spends her time as a living history presenter showing adults and children all over the area about life in the Victorian era. While dressed in authentic period clothing, she presents a number of programs providing historical information from a woman's point of view.
"I have been doing programs about what life was like in the 19th century since 1991," McLane said. "When I started buying and selling the clothing, people started asking me about it and I started doing programs. You can't talk about the clothing that women wore without thinking about the woman who wore it."
Originally McLane's programs were structured around the fashions of the era but have evolved into presentations on varied aspects of Victorian life such as etiquette and afternoon teas.
"I still do fashion programs where I bring my collection of a 100 years of hats and talk about the women who would have worn those hats through these years," she said.
(Continued on Next Page)
Prev Next
Vote on this Story by clicking on the Icon