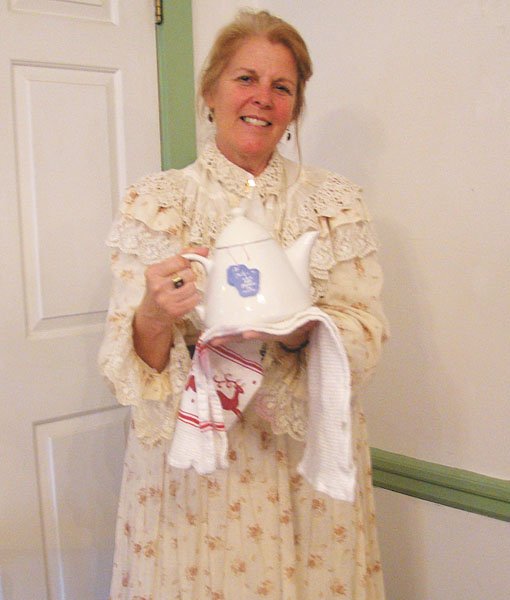 McLane said she grew up in an era where all she heard about was wars and men's inventions, and she chose to address this topic in a program called "Infamous Woman."
"I think it's important to talk about women and their lives and roles and the women who are not the norm like Victoria Woodhull who was nominated to run for the presidency in 1872. She was one of those radical women."
One of McLane's more popular programs is a presentation about the Titanic which evolved when she was asked to provide dresses for the movie, "Titanic."
"I have dealt with the movies for a long time because of my love of buying and selling clothes. I had about 25 dresses in "Titanic."
Ask McLane about her thoughts on the blockbuster movie though and she will tell you "it's Hollywood."
This is what prompted McLane's program about the famous ship.
"I bring my trunk filled with things that people would travel with in the 19th century. It just fascinates everybody," she said.
McLane also shares her love and knowledge with the younger generation. About 10 years ago ,Brookside Museum in Ballston Spa asked McLane if she would be interested in teaching a program for kids during school breaks.
"That's when I created the tea parties for kids," she said.
On Tuesday, Feb. 18, McLane will host her two-hour hands-on experience of a Victorian Tea Party for children. She will talk about the history and background of tea parties and Victorian culture.
"It's certainly very different from adults. I've been working at the museum for quite some time, so I've gotten better working with the kids over the years, but I have to tell you it's often times the kids teach me because my generation has a different set of ideals and outlook," McLane said with a laugh.
Vote on this Story by clicking on the Icon