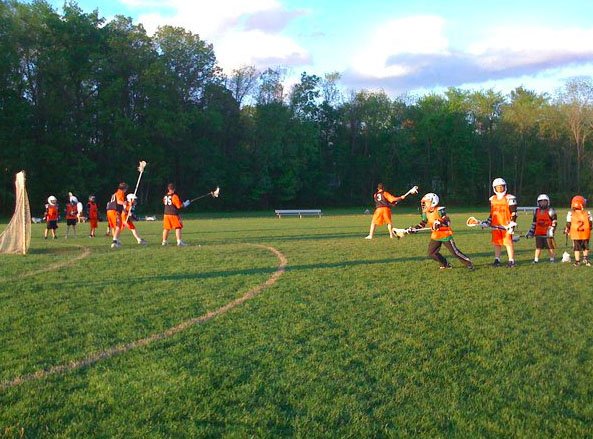 Lacrosse is one of the fastest growing sports in the Town of Bethlehem. It is fast paced, exciting and yes, a bit complicated to watch and understand at first. However, fans, players and parents quickly move from, "Lacrosse? Is that the game played with the funny sticks?" to understanding the nuances of the game.
The Bethlehem Lacrosse Club was originally formed in 2001 as Bethlehem Youth Lacrosse and changed its name to the Bethlehem Lacrosse Club in 2006. Initially consisting of well under 100 boys, it expanded quickly to both boys and girls and now boasts almost 400 players throughout the year.

Lacrosse was started by the Native American Indians in the St. Lawrence Valley and was originally known as stickball. French Jesuit missionaries working in the region in the 1630s were the first Europeans to see lacrosse being played by the Native American Indians and brought the game back to Canada, where it flourishes today. New York is a hotbed for this sport, and we are lucky to have colleges boast nationally-ranked men's and women's programs at SUNY Albany, RPI and Siena within a 20-minute drive. And a great Syracuse game is just a day trip.
Watching a great game is fun for the whole family, but playing lacrosse is even better. Lacrosse teaches both boys and girls the fundamentals of being part of a team, it keeps them physically fit and they gain better hand eye coordination and agility skills. Kids who play lacrosse run. They gain strength, speed and stamina. They run up and down the field, they stop quickly and learn to "roll," "dodge" and "cut." Anyone can play lacrosse, as those who excel at the game are fast, agile and coordinated and not necessarily the biggest or most muscular players out there.
The Bethlehem Lacrosse Club has grown to be one of the larger lacrosse clubs in the Capital District. We have dedicated coaches and volunteers who love the game and want to give our kids the best experience while teaching the rules of the game and promoting fair play and sportsmanship. We have coaches who are dedicated and experienced parents, as well as former college players. The boys program is mentored by Bethlehem Varsity Coach Dave Rounds, and our Bethlehem modified coach, Lily Corrigan, leads and directs the girls programming.

(Continued on Next Page)
Prev Next
Vote on this Story by clicking on the Icon