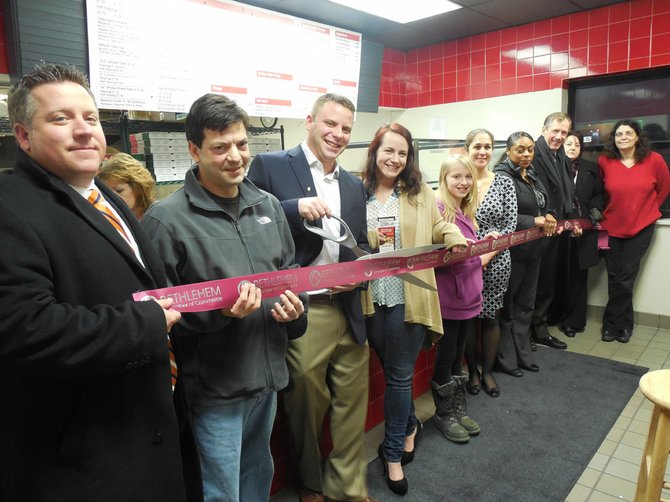 At Lou-Bea's Pizza, you can taste the tradition — from the award-winning sauce to the gourmet topping combinations.
Owner Ryan Hancox, who bought the business from Lou and Bea Goldman in the late '90s, said Lou-Bea's isn't looking to be highbrow or trendy. The mission has always been to keep serving the recipe that customers have known and loved since the Goldmans first started selling pizza in 1968.
"I've stayed true to the recipes of our founders," said Hancox. "We want to keep the wheels spinning, not reinvent the wheel."
But, Hancox admitted, some change can be good, and that's why he recently opened a second Lou-Bea's at 159 Delaware Ave., Delmar.
"It seemed a natural progression for us," Hancox said. "A lot of our customers already live in Delmar, and this is more convenient for them."
Hancox said the Delmar restaurant, which opened in November, is already doing a brisk lunch counter business as longtime local fans find they don't have to drive far to get their Lou-Bea's fix. Delivery is also available in the surrounding area.
Recent additions to the menu include whole-wheat and gluten-free crust options, as well as a 100 percent grain-free cauliflower crust. But the real focus is on the closely guarded sauce recipe and fresh, locally sourced ingredients.
"We don't cut corners," said Hancox.
Hancox first started working at Lou-Bea's in 1995, and in 1998, when he was a junior at Siena, he cashed out his college account to purchase the business from the Goldmans, carrying on their tradition of great-tasting pizza.
Even today, tradition is strong at Lou-Bea's, with family and friends playing an important role. Hancox's wife managed the Albany restaurant for several years, and mangers at both restaurants are people Hancox has known since childhood.
Lou-Bea's also has a tradition of being a big part of the community, from providing job training and skills to young people to a long history of working with schools, churches and synagogues in the area. And that is something Hancox, who lives with his family in Bethlehem, plans to continue with the new Delmar location.
(Continued on Next Page)
Prev Next
Vote on this Story by clicking on the Icon