ALBANY COUNTY — Lawmakers established the local development corporation and appointed the seven-member board tasked with taking over operating the Albany County Nursing Home, but some supporters were less than enthusiastic.
The Albany County Legislature approved creating the nursing home LDC by 27-10 at its meeting on Monday, Feb. 10, with votes split across party lines, and appointed its board of directors. The finalization of the LDC was seven months after the resolution was sent to the Special Committee on Elder Care. Albany County Executive Dan McCoy wanted to privatize the nursing home to remove its burden on taxpayers, but legislators offered forming an LDC as a compromise.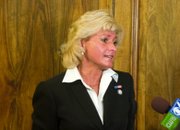 Some Democrats voting in support were still unsure if forming the LDC was the best option.
"I don't know if this is the right answer or not … but it is better than sitting back as we have been for the last year and a half doing nothing but arguing," said legislator Gilbert Ethier, D-Cohoes. "I am not wholeheartedly in favor, but I think it is a step in the right direction."
Legislator Mary Lou B. Connolly, D-Guilderland, said she was giving the proposal "a chance" and hoped it would work as she envisions.
One nursing home supporter viewed the LDC as the best option remaining, with continuing as-is off the table.
"We would of course prefer … that the legislature oversees it," said Renee Barchitta of the Albany County Nursing Home Core Family Council. "If it comes to either selling it … or closing it, then we support this wholeheartedly. We think it is the best out of those three options."
Barchitta said she called most of the proposed board members and was "very impressed" with their qualifications and "concern" for residents. She said most supported keeping county employees.
The LDC Board of Directors was formed through the legislature chairman and majority leader, with each of them selecting three members and the minority leader selecting one member. The board members include Fiscal Policy Institute Executive Director Emeritus Frank Mauro, BlueShield of Northeastern NY Regional Medical Director Kirk Panneton, the Rev. Kenneth Doyle, former City of Watervliet Mayor Robert Carlson, City of Cohoes Comptroller Michael Durocher, former Albany County Department for Aging commissioner Judy Coyne and University at Albany Rockefeller College of Public Affairs and Policy professor Kevin Bronner.
(Continued on Next Page)
Prev Next
Vote on this Story by clicking on the Icon