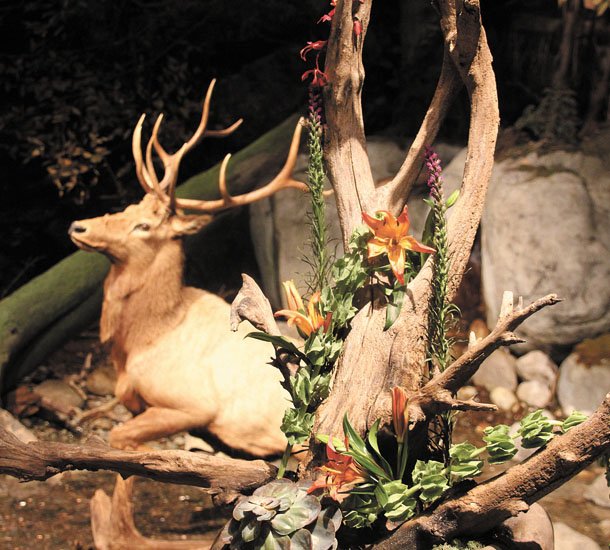 continued — "As a resident of the area, I never think, 'I should go see what's at the museum today,' but I hope that by featuring items that create a story to give people a chance to stop, look and take their imagination away by telling a story," Schmidt said.
In last year's scene, Schmidt did just that by taking a glass hearse from the museum's collection to create "Once Upon a Time," a display that intertwined flowers and props to create a whimsical fairy tale scene.
"When I looked over the thousands of items I could choose from, I kept coming back to that carriage, a glass hearse." Schmidt said. "I knew it had never been on display, and it was so incredible I had to figure out a way to bring it into the light and show its magnificence."
Schmidt said with the help of the museum, he was able to collect an array of other elements and build a storybook for people to enjoy.
The event benefits the museum's after-school, mentoring and summer enrichment programs for children. In addition to the displays, the weekend also features demonstrations on floral design, children's activities and a flower market.
Valentine said the timing couldn't be better with the harsh winter the area has been experiencing this year.
"We are in the dead of winter … it's freezing cold, gray and dreary outside. It's a nice opportunity to come to the museum and explore the state's history, but also an opportunity to see the signs and smells of spring at the museum in the middle of winter," Valentine said.
New York in Bloom will take place at the New York State Museum from Friday, Feb. 21, through Sunday, Feb. 23, 9:30 a.m. to 5 p.m. The show will offer demonstrations for children and adults on Friday, Saturday and Sunday, and a flower market will be held in the museum lobby while supplies last. Admission is $5. Children 12 and under are free. Tickets can be purchased at the museum or at any Price Chopper Supermarket. For more information, visit www.nysm.nysed.gov/programs/nybloom.
Vote on this Story by clicking on the Icon