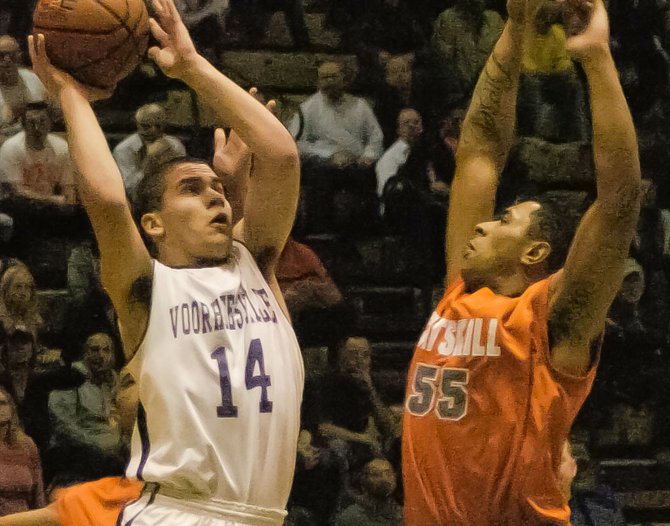 TROY — Voorheesville boys basketball coach David Burch remembers the last time he was in Glens Falls for a Section II playoff game.
It was back in the 1990s when Burch helped Voorheesville reach the Class C-CC championship game against Mechanicville – a game the Blackbirds ultimately lost.
"I definitely think about that game," said Burch. "My last game as a senior was up there against Mechanicville."
Burch will have his chance to avenge that loss Tuesday when Voorheesville meets Mechanicville in the Section II Class B semifinals at the Glens Falls Civic Center. The top-seeded Blackbirds (19-1) advanced with Friday's 64-53 victory over No. 8 Catskill at Hudson Valley Community College, while No. 5 Mechanicville (15-4) pulled away from No. 4 Mekeel Christian Academy for a 75-62 quarterfinal win.
"I expect a very good game (Tuesday)," said Burch.
Voorheesville defined the term "balanced attack" in Friday's quarterfinal win against Catskill (15-5). Dylan Hensel, Shane Parry and Isaiah Meaux all scored 13 points, while Noah Crawford and Logan Hotaling each added 11 points.
"These guys played pretty unselfishly today, and we did what we had to do to win," said Burch.
Each of Voorheesville's leaders had their moments to shine. Hensel started off hot by hitting three three-pointers in the first 3:30 of the game, which helped the Blackbirds build an 11-8 lead.
Hensel's threes dried up after his opening burst, which is when Parry and Meaux gave the Blackbirds a boost off the bench. After Catskill used a 6-0 run to build a 20-15 lead early in the second quarter, Parry drained a three-pointer to kickstart a decisive 17-0 Voorheesville spurt. Meaux went on a personal 10-0 run to put the Blackbirds ahead 32-20.
"Those two have had a great impact on this team all year," Hensel said of Parry and Meaux. "It's great because they're both juniors, so it bodes well for our future."
(Continued on Next Page)
Prev Next
Vote on this Story by clicking on the Icon