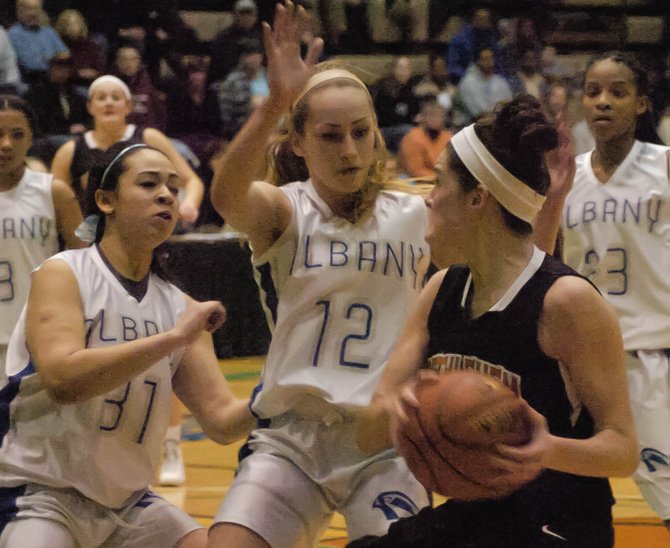 TROY — Cara Waterson personally saw to it that there would be no overtime.
The senior guard raced down the court and prevented Kaylee Rickert from hitting a tying layup with 10 seconds left in the fourth quarter to help Albany pull out a 51-47 victory over Bethlehem in Thursday's Section II Class AA girls basketball semifinal at Hudson Valley Community College.
Rickert had nothing but open court after receiving a halfcourt pass. Waterson, though, never gave up on the play. She arrived first to the basket and disrupted Rickert's attempt at the shot without fouling her.
"I just went back to what I learned in basketball," said Waterson. "It was a matter of putting everything into that sprint and then getting good body position."
"A team like that is not just going to let us go down and get the tying layup," said Bethlehem coach Matt Bixby. "They hustled and they got it."
The game was a rematch of last year's Class AA final, which Albany won 64-47. This time, Bethlehem (17-3) stayed with Albany step for step before falling at the end.
"We played great tonight," said Bixby. "We executed very well. We worked our butts off this week in preparation for this game."
One trend returned from last year's game: Albany's defensive intensity disrupting Bethlehem's offense. The Falcons (18-1) used their long reach trapping skills to force the Lady Eagles into several turnovers.
"They're just so long and athletic, and that's nothing we see on a regular basis," said Bixby. "I thought for the most part that we handled it well."
Bethlehem's defense returned the favor, though. The Lady Eagles also forced Albany into several timely turnovers to keep themselves close.
"We knew if any team could stay with us, it was Bethlehem," said Albany coach Decky Lawson.
Ultimately, it was an 8-0 Albany run that proved to be the difference in the game. The run spanned from the latter stages of the third quarter through the early part of the fourth quarter and turned a 36-35 Bethlehem lead into a 43-36 Albany advantage.
(Continued on Next Page)
Prev Next
Vote on this Story by clicking on the Icon