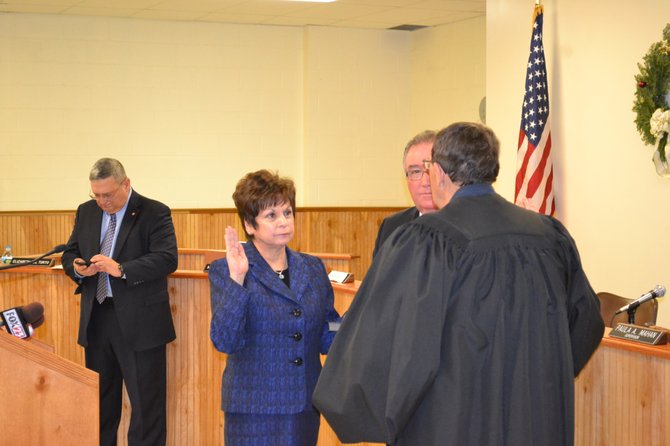 The biggest storm of the year so far didn't keep Town of Colonie employees from taking their oath of office.
On Friday, Jan. 2, Paula Mahan, members of the town board and town employees took their oaths of office in front of friends and family at the Memorial Town Hall.
"First, I'd like to thank all of you for braving the elements to be here as we begin another term of service for the residents of the Town of Colonie," said Town Attorney and Master of Ceremony Michael Maggiuli, adding that "2013 was a great year for the Mahan administration, as well as the taxpayers of Colonie."
Democratic congressman and lifelong resident of Amsterdam, Representative Paul Tonko, made the opening remarks.
"I often wonder if it's Paula Mahan's work and association with children with special needs that has driven her sense of passion and commitment to the public sector of work. Being an educator is a tough job; working with children with special needs is an even more demanding, but it says a lot about your character and personality," said Tonko. "I think that caring and dedication and devotion Paula has brought forth from her past career has allowed her to respond with such compassion and sensitivity to the people of Colonie. Colonie is an awesome community, and I'm proud to represent it in D.C."
There were many reappointments to the board, but David R. Green took his first oath of office as he begins his term as a member of the town board, filling the vacancy left when Daniel Hornick stepped down at the end of his term.
Joseph C. Teresi, Supreme Court judge, gave Paula Mahan her oath of office.
"I'm honored to stand before you to begin my fourth term as the town supervisor. We've made great progress over the last six years, and I look forward to even greater success in the future," said Mahan. "(Last year) was an exciting and productive year, and I think we will have another great year in 2014."
(Continued on Next Page)
Prev Next
Vote on this Story by clicking on the Icon