At the beginning of this school year, the lunch fund was around $55,000 in the red, according to Diefenbach, but programs outside of the lunch and breakfast lines are responsible for a rebound.
In September, Mulligan developed "Meals-to-Go" as a way to bring in additional revenue. The program has him cooking up prepared meals generally every other Wednesday and selling a complete dinner to parents and community members.
"It has been amazing how many people come out. It has been a huge, huge success," Mulligan said.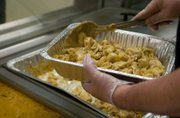 A total of 1,281 meals have been sold since the program began. The most popular meal has been the chicken parmesan dinner at 267 meals sold and the least popular was salad dinner at 143 meals.
"The one that was not a hit, we were shocked about, because that is the one that everybody loves, but we figured it was the timing. Most people don't have the mindset that a salad is dinner," Diefenbach said. "We know we are going to do quite a few more chicken parmesans, I can tell you that."
The average net profit for the first six Meals-to-Go offerings was $353 or about 27 percent. The average number of meals sold was 214.
"By and large the program is going okay," Diefenbach said. "It's a new venture for us … so everything is like a test case for us, but I think the way we are proceeding is the best we can."
Another new addition is opening the Blackbird Bistro in the cafeteria after school, so students can pick up sandwiches, salads, drinks and other items. As of Dec. 13, the café had made a net profit of $470.
Diefenbach said the district is looking to start marketing its Blackbird Bistro offerings during the Meals-to-Go program.
"We are going to have all these sandwiches that are laying out there anyway," he said, "so when people pick up their Meal-to-Go, we are going to say, 'Oh, by the way, look at these sandwiches.'"
Vote on this Story by clicking on the Icon