More than a decade after a local man started writing a book in college, he dusted off the novel of absurd comedy to see the words finally make it to the printed page. The first challenge was finding some way to get the text off an old floppy disk that had been stashed away.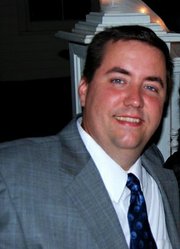 Michael Parker, who lives in his hometown of Guilderland with his wife and three daughters, started the book in 1996 and continued working on it for another three years, in between completing academic assignments at St. Bonaventure University. Parker earned his master's in English from the university and then taught for a year before transitioning to working at the Times Union. He tried getting his book published through standard avenues, but was met with several rejection letters.
"I had done the traditional route, printed out copies, sent it out to literary agents and a couple of publishing firms and had a stack of 40 to 50 rejection letters," Parker said.
There was one agent who showed some interest, but ultimately decided against taking on Parker. Shortly after, he started working full-time in a newsroom and found writing as a hobby difficult after spending the day writing professionally.
"It can be a grueling process, and it is easy to get discouraged, and that is probably the most difficult thing any writer faces, especially going to the traditional route," he said.
For 14 years, the completed book sat dormant on a floppy disk as Parker continued his career and started a family with his wife, Angelica Gonzalez-Parker. In 2004, he transitioned to working in the communications office at the University of Albany, and now holds the title of associate director of communications.
What pushed Parker to refocus on getting his book printed wasn't a black and white reason, but rather "50 Shades of Grey." His writing is vastly different from author Erika Leonard, known by her pen name E.L. James, but the surprise success she had skirting traditional publishing routes was an inspiration.
(Continued on Next Page)
Prev Next
Vote on this Story by clicking on the Icon