GUILDERLAND — Hours before ringing in the New Year, Guilderland Democratic candidates celebrated successful campaigns and took the oath of office amongst family and friends.
Inside a packed room Tuesday, Dec. 31, at Guilderland Town Hall, reelected and newly elected officials were sworn into office, which included Supervisor Ken Runion, Town Board members Patricia Slavick and Paul Pastore, Town Clerk Jean Cataldo, Receiver of Taxes Lynne Buchanan and Town Justices Denise Randall and Richard Sherwood. Republicans failed to capture any seats in the recent election.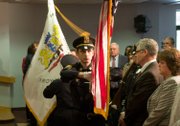 Runion said the biggest issues Republicans raised against him was he had been supervisor too long, with him beginning his eighth two-year term, but his lengthy tenure has given him a lot of experience.
"I think we have done a good job, and I think that is more important than the length of time you may have served in office," Runion said. "I did feel like we had a lot of support out in the community, and I really appreciated all of the support got from the town residents during the last election."
Runion was pleased with accomplishments of the Town Board during 2013 and looks forward to continue having "balanced budgets and providing those quality services residents deserve."
He said the board has not had problems staying within the state imposed tax cap and has "very little debt" alongside high bond ratings.
"The biggest feat was to be able to get through the economic downturn and to have a balanced budget; also, to have real tax cuts," Runion said. "We maintained our current level of services … so I think that was significant."
Slavick said Town Board members have a "challenging position" to reduce expenses while maintaining town services for residents. Slavick has served on the board since 2000.
"I am very privileged and honored to be here for the fourth time," Slavick said. "I thank everyone who helped me get reelected again."
(Continued on Next Page)
Prev Next
Vote on this Story by clicking on the Icon