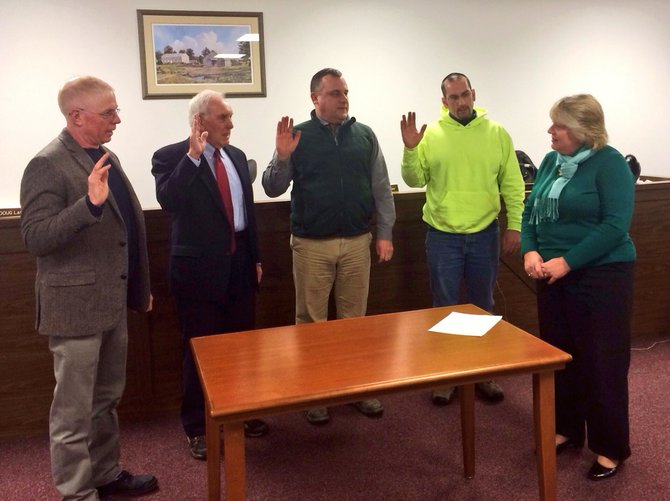 NEW SCOTLAND — A steady snowfall, frigid temperature and slick roads did not deter the New Scotland Town Board from holding its scheduled organizational meeting, with a plow continuing to clear the parking lot at Town Hall minutes before it started.
Town Supervisor Tom Dolin, town board members Douglas LaGrange and Daniel Mackay, and Highway Superintendent Ken Guyer were sworn in Thursday, Jan. 2, in front of a few residents. The four incumbents, along with incumbent Town Clerk Diane Deschenes, faced no opponents in bids to keep their posts. Before adjourning the organizational meeting, board members reflected on goals for the new year, with many unfinished projects eyed for completion.
Edith Abrams, who during the meeting was appointed to the Zoning Board of Appeals for a four-year term, applauded the town board's efforts last year.
"I think most of the residents are happy, (and) they are satisfied with what you guys are doing," Abrams said. "You kept below the cap, and you made the running of the town much more professional. … I think we have done away mostly with what one would call the 'old boys network.'"
Abrams then asked the board to share what their hopes were for the new year beyond "the normal business."
LaGrange pointed to finalizing zoning issues surrounding the intersections of routes 85 and 85A, formerly home to the Bender farm, which previously stirred controversy about how the area should be commercially developed.
Tropical storms Irene and Lee struck a few years ago, but Dolin said there are two projects left to tackle damage from the storms. He said he aims to complete the repairs this year along Countryman Road and Krumkill Road with Federal Emergency Management Agency funds fueling the work.
Dolin also wants to complete and turn on the taps for customers within the recently created New Salem Water District this year.
(Continued on Next Page)
Prev Next
Vote on this Story by clicking on the Icon