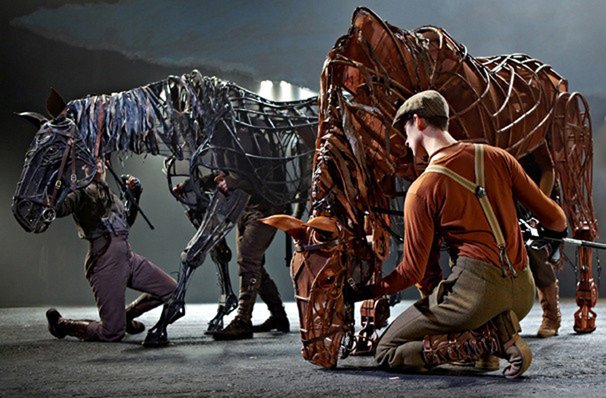 The National Theatre of Great Britain's epic "War Horse," winner of five 2011 Tony Awards, including Best Play, will make its premiere at Proctors, Jan. 15-19.
IF YOU GO
• What: "War Horse"
• When: Jan. 15-19, various times
• Where: Proctors, 432 State St., Schenectady
• How much: $20-$95
• Info: www.proctors.org
Hailed by The New York Times as "theatrical magic," "War Horse" is the story of young Albert's beloved horse, Joey, who has been enlisted to fight for the English in World War I. Joey is caught in enemy crossfire and ends up serving both sides of the war before landing in no man's land. Albert, not old enough to enlist, embarks on a treacherous mission to find his horse and bring him home.
What follows is a tale of courage, loyalty and friendship, filled with stirring music and songs and told with innovative stagecraft.
The similarly named, but unaffiliated Saratoga WarHorse is a nonprofit organization assisting veterans who are suffering from invisible, psychological wounds by providing a confidential peer-to-peer, action-based, equine-assisted experience that initiates immediate and long-lasting changes.
For "War Horse" tickets purchased before Jan. 12, Proctors donated $10 to Saratoga WarHorse.
"War Horse," part of the Key Private Bank Broadway Series, is at Proctors Wednesday, Jan. 15 through Sunday, Jan. 19. Show times are 7:30 p.m. Wednesday; 8 p.m. Thursday through Saturday; 6:30 p.m. Sunday; matinees, 1:30 p.m. Thursday, 2 p.m. Saturday and 1 p.m. Sunday. Proctors is located at 432 State St., Schenectady. For more information, call 346-6204 or visit www.proctors.org.
For more information about Saratoga WarHorse, visit saratogawarhorse.com.
Vote on this Story by clicking on the Icon