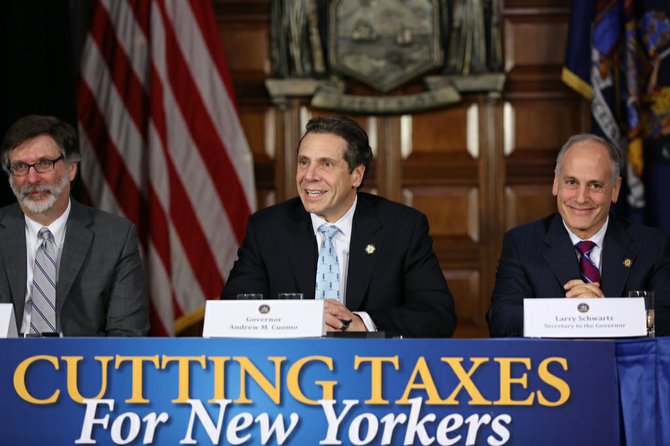 N.Y. CAPITOL — Homeowners could see their tax bills effectively remain flat over the next two years through a proposed tax rebate program, which strengthens the state mandated tax cap on local lawmakers by making exceeding it more than just a political cost.
Gov. Andrew Cuomo announced details of a $2 billion tax relief proposal two days before his State of the State address on Wednesday, Jan. 8. The proposals, developed through work of the state Tax Reform and Fairness Commission and the state Tax Relief Commission, aim to reduce taxes and spur economic development, with homeowners benefiting directly from some initiatives. Freezing property taxes for two years is touted to provide almost $1 billion in relief, with the projected cumulative average of $350 per homeowner.
"The main tax burden in New York State is not the income tax; it is the property tax," Cuomo said during his address. "We raise about $40 billion per year from the income tax and we raise $50 billion from the property tax. And that is the tax you will hear New Yorkers complaining about from one end of the state to the other."
To help homeowners, the Pataki-McCall Commission recommended freezing property taxes for two years, but tied it to local governments, including school districts, adhering to the tax cap. Local town and village boards have been able to simply override the tax cap through a 3-2 majority, even as schools have had to face a supermajority of voter approval for any budget over the imposed limit.
The governor's proposed two-year property tax freeze hinges on two conditions, with a rebate being offered to offset any increase in taxes that falls within the guidelines.
During the first year, the state will only provide tax rebate for homeowners living in a jurisdiction staying within the tax cap. For the second year, the tax cap must not be exceeded, and local leaders must agree to implement a shared services or administrative consolidation plan. Both years, local leaders and school districts would need to meet requirements, or the rebate would be lost.
(Continued on Next Page)
Prev Next
Vote on this Story by clicking on the Icon