The shoddy conditions and high crime rate at a number of the motels lining the Central Avenue corridor have long been on the radar of Colonie officials, but fixing the problem has taken time and left some people wondering how it was allowed to get so bad.
Photo Gallery
Town set to shutter Skylane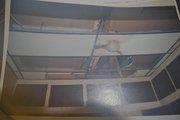 Laundry list of violations show longtime neglect
The Town of Colonie has made a serious effort to clean up motels on Central Avenue in recent years, including establishing a points system that limited the number of sex offenders who could legally stay at those establishments. However, town attorney Michael Maggiulli said the town needed probable cause to thoroughly search an establishment before officials could get to the next step of actually shutting it down.
When a resident fell through the floor of the Skylane Motel at 1927 Central Ave. in early December, the town finally had what it needed to obtain that search warrant. In the past, Maggiulli said, the town was only able to get owner Alex Patel, who owns other motels, including a Super 8 that receives significant subsidies from the county, to make small improvements in response to complaints.
"Mr. Patel would remedy the violations and always did the bare minimum," said Maggiulli. "We can't go into these buildings without the permission of the owner so we have to wait for something that would give us probable cause to get a search warrant. In this case it was a guy falling through the ceiling."
---
Both the town and county have employees that visit the hotel on occasion for inspections.
The Albany County Department of Social Services has contractual agreements with some hotels in the area including the Skylane Motel and Super 8 owned by Patel. Not everyone placed at the motel was from the Department of Social Services and not all of them were sex offenders. From December 2008 to March 2013, Albany County paid Patel nearly $650,000 to house people at the Skylane and over $1.5 million to place them at the Super 8.
(Continued on Next Page)
Prev Next
Vote on this Story by clicking on the Icon