GUILDERLAND — Technology is omnipresent in the lives of many, including children who might not know the best practices for interacting online or act differently in cyberspace than they would face-to-face.
Guilderland Central School District, which recently dealt with a high-profile incident of cyberbullying that is now working its way through town courts, held a community conversation recently on how to use technology in a safe and responsible way. Several topics were covered, such as how bullying and harassment has evolved, creating a positive "digital footprint" and tips for parents to better monitor their child's interactions with technology.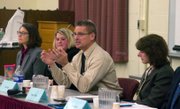 About 70 people turned out to the panel discussion titled "Communicating in a Digital World: A conversation about civility and respect" at Guilderland High School on Tuesday, Jan. 14. The panelists included district Superintendent Marie Wiles, High School Principal Thomas Lutsic, School Resource Officer Nick Ingle, county Crime Victim and Sexual Violence Center Prevention Educator Christin Guilder, A World of Difference Institute Associate Education Project Director Beth Tidd, and Siena College Senior Associate Director of Admissions Katie Cooney Lesko.
At one point, Wiles pointed out that it wasn't just parents who showed up — around a third of the audience was made up of students.
"I'm impressed by the turnout tonight, and I am particularly delighted to see so many very young faces in the crowd," Wiles said. "Tonight we want to … continue a conversation that we've been having for many years in Guilderland that is how to create a student who grows into a responsible community contributor."
Tidd said parents should have "very firm ground rules" on what they expect from their children. She said children should learn to not only hold themselves accountable, but their peers, too.
"So many times we see something happen, and we may say, even as adults, 'I'm not going to go there' … or 'It is not my business,'" Tidd said. "We need to change that culture of thinking so that we are getting involved and we are becoming allies and role models for those around us."
(Continued on Next Page)
Prev Next
Vote on this Story by clicking on the Icon