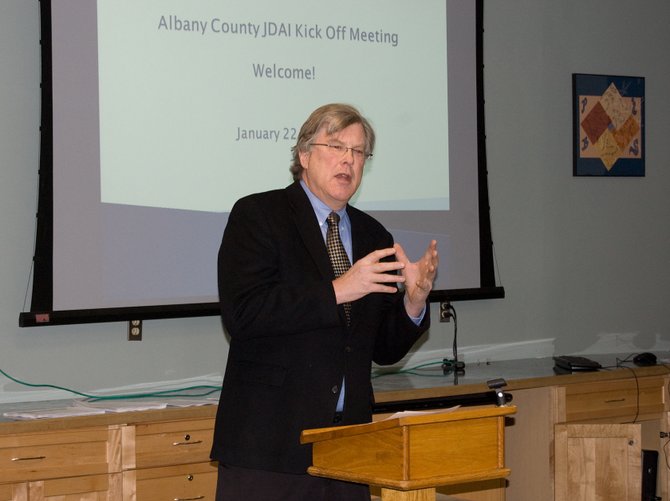 ALBANY — County officials are hoping that a new program that helps keep youths out of detention facilities could also end up saving taxpayers money.
Albany County announced on Wednesday, Jan. 22, it would be taking part in the Juvenile Detention Alternative Initiative (JDAI) aimed at reducing the number of young people placed in secure and non-secure detention facilities, along with enacting reforms to the juvenile justice system. The state Office of Children and Family Services' Division of Juvenile Justice Opportunities for Youth selected the county as one of six sites statewide to participate in JDAI.
Albany County Executive Dan McCoy said the county Department for Children, Youth and Families has been a leader in developing policies to improve the justice system and "ensure that our youth can turn their lives around."
The JDAI program will help the county lower detention costs, McCoy said, while enacting new procedures to reduce repeat offenders and maintain public safety. The Annie E. Casey Foundation is sponsoring the program.
"This is such an exciting initiative," county Deputy Executive Philip Calderone said. "This a great community, a very supportive community for children."
Albany County Family Court Supervising Judge Gerard Maney said he was pleased with what the county has already achieved in collaborating with Family Court to develop better outcomes for juveniles accused of crimes.
"The children that we serve … are in crisis," Maney said. "They need help from top to bottom, and the only way we are going to do that is providing the necessary services so they can become productive adults."
From 2008 to 2012, secure and non-secure detention countywide was reduced annually by around 25 percent, or from 329 admissions to 251. The amount of young men at the facilities was reduced by 33 percent, with young women seeing a 6 percent reduction.
(Continued on Next Page)
Prev Next
Vote on this Story by clicking on the Icon