continued — "We commend Living Resources for their extraordinary vision and commitment to building sustainable, green homes in the Capital District, which truly enhances the lives of individuals with disabilities and the elderly," Molly Tarleton, a spokeswoman for Hannaford, said in a statement.
Breslin said he hopes the Smart House will help lead to a time when people can't imagine living in anything less than technologically savvy home.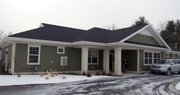 There are many technology features, but the core design of the house is all about accessibility. The home features an open, single-level floor plan using natural lighting and automatic lighting in some areas. Expanded bathrooms also allow for better mobility. Medical supports for tracking medications and vital signs run through the Internet.
Erlich views the home as a starting point for the nonprofit and other organizations to build more homes throughout the state.
"We see this as a start … to look at ways that agencies like Living Resources and technology that is already out there in the market place could be brought together, and we can work at ways of helping people to remain independent," Erlich said, "whether they are intellectually and developmentally disabled, have a brain injury, or just got older and want to remain independent."
Living Resources, a nonprofit, houses 36 individuals in homes no longer meeting the needs of residents. There are an additional 31 people on a waiting list for upgraded barrier-free housing. People may experience difficulties with mobility, memory, vision, hearing and heart conditions as they get older, but these problems could be compounded if someone also suffers from cognitive disabilities.
Erlich said the organization projects up to a third of its group home residents would reach the age of 60 over the next decade, which will increase the demand for independent living facilities.
"The combination of emerging health issues among the aging population and the structural limitations of housing that no longer accommodates the needs of consumers can no longer be tolerated," Erlich said. "Building more homes with advanced technology and capabilities is a critical step in the search to find compassionate solutions to the challenges of caring for one of the more vulnerable segments of our population."
Vote on this Story by clicking on the Icon