Gene Loparco
Historian at Joseph E. Zaloga American Legion Post 1520
• Current residence: Colonie
• Hometown: Troy
What are you listening to?
Went to Paul McCartney Saturday night, and that was super. My taste in music ranges from Sinatra, Elvis and the Beatles.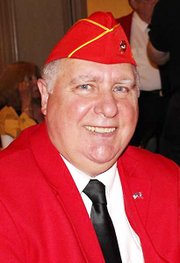 What have you been watching on TV?
I just watch Yankee games. If "Blue Bloods" or "NCIS" is on and my wife is watching that, I'll sit and watch with her.
What have you been reading?
Read our magazines that come from the American Legion, VFW, Marine's magazines, I have thousands of books, automobile magazines. I have a lot of history books and books on the Giants and Yankees.
What is the last movie you saw?
We went to see "Jersey Boys." Last weekend I brought my grandson to see "Transformers" in the theater. My son has a projection screen at his house, so we go over there and sit around and watch movies.
What are your hobbies?
Photography, for one, I collect baseball memorabilia. I really enjoy photography when we go places, it can be Thacher Park or out west. I always take my camera. They are displaying my work at the Italian American Community Center in September and October. I've got 200,000 photos on my hard drive.
What person would you like to meet, living or dead?
It wouldn't be any person. I think it would be God. There really isn't one particular person. I'd love to meet Mickey Mantle, I have a lot of great pictures of him, but I've never met him.
What is your ideal vacation?
I went to Italy, and I'm trying to get the wife to go to Venice. I guess it would be nice to go back to Italy. I'd love to go back and spend a few weeks there. I've taken pictures of the pope and the other 150,000 people that were there.
What is your favorite local memory?
Other than me pitching the perfect game with NYS retirement system softball team, I would have to say Paul McCartney's show the other night. Obviously the birth of your children stands out differently. But to see McCartney come back and give that show and perform 110 percent after being that sick and performing three or four encores was just amazing.

Vote on this Story by clicking on the Icon