SARATOGA SPRINGS — Dancing with the New York City Ballet is the dream of nearly every American ballerina, but few are given the opportunity prior to high school.
However, three local girls may still get their chance after they were selected as understudies while the New York City Ballet visits Saratoga Springs this summer. Ellie Whiteman of Slingerlands, Emily Rennells of Colonie and Riley McGee of Niskayuna were among those selected as understudies in this year's performance of "Circus Polka." All three of the girls are in middle school.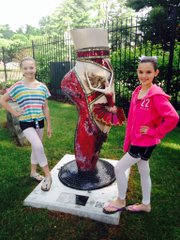 Dancers from local studios were once again invited to audition, and this year extra girls were needed for the coming production of "Circus Polka."
"For an aspiring dancer, this is a dream come true," said Michele Pigliavento, a ballet instructor at Orlando's School of Dance in Schenectady. "We're very fortunate that we've had students from our school selected the past few years. I myself was selected as a child in the 1960s."
Pigliavento said auditions are held each year in the spring in anticipation of the ballet's visit to the Saratoga Performing Arts Center. Originally, Pigliavento recommended six girls tryout from the studio, but some knew they wouldn't be able to commit to the process. Four girls from Orlando's School of Dance auditioned this year, and three were selected.
"I generally know what they are looking for, and sometimes we'll be sent an age-range or a height cut-off, so that helps," Pigliavento said.
Pigliavento said the audition process was harder than in year's past because the New York City Ballet brought girls with them from the School of American Ballet to also tryout for the roles. Last year, some girls from her school were given actual parts. Whiteman was among those dancers.
"It was better last year because we got to perform with the corps de ballet," said 12-year-old Whiteman, who attends Voorheesville Middle School. "This year is exciting but stressful because we have to learn the parts of up to four people or more, and the parts are all very different."
(Continued on Next Page)
Prev Next
Vote on this Story by clicking on the Icon