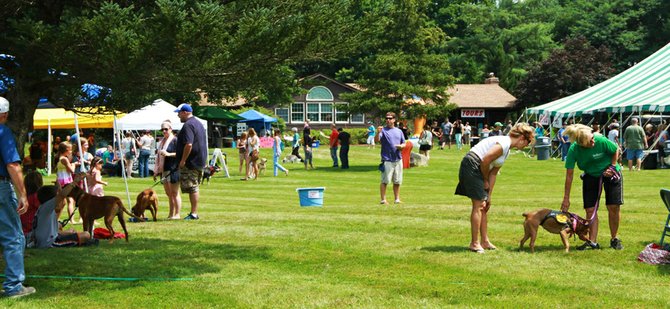 The Animal Hospital was established in 1974 and built from the ground up by Dr. Ed Becker on over 22 acres of farmland. The facility was designed to be a comfortable and efficient environment for patients, staff and for you.
Over the past 40 years, the hospital and grounds have been upgraded continually as veterinary technology, and needs, have changed. The Animal Hospital is the only one in the Capital District to offer laparoscopic surgery. It also offers state-of-the-art dental technology, including digital dental X-ray. Other amenities include complete digital medical records, as well as the latest ultrasound and digital radiography equipment.
By choice, The Animal Hospital remains a small veterinary hospital. This allows all of the staff to get a chance to know customers and their pets. To accomplish this, they limit the size their client base and also schedule 30-minute appointments, allowing them to provide the necessary time to meet everyone's needs.
The Animal Hospital takes great pride in its long history of taking care of wildlife and endangered species. Every year, they voluntarily treat 300-500 individual wildlife patients. From abandoned wild bunnies to injured bald eagles, the staff is committed to assisting and nurturing these wildlife species to a positive recovery. They work closely with other licensed wildlife rehabilitators to continue the journey of healing for these species, sharing the commitment toward a successful release back into the wild.
The staff at The Animal Hospital is also committed to helping pets find loving homes and getting a second chance in life. Since 2010, they have partnered with Steve Caporizzo and have hosted an annual Pet Connection Adoption Day. They continue to be proud every year by the increased success the event achieves. Last year, they hosted over 3,000 guests, 150 pets were successfully adopted into forever homes, and more funds than ever before were raised for rescue groups and shelters, thanks to donations toward the raffle events.
Join them for the fifth annual Pet Connection Adoption Day, which will be held on the weekend of July 19. Be part of what has become a successful mission in not only finding forever homes for companion animals, but also in raising money for the many local shelters in need of funds.
The Animal Hospital is located at 2 Rocking Horse Lane, Slingerlands. For more information, call 456-0852 or visit theanimalhospital.com.
Vote on this Story by clicking on the Icon