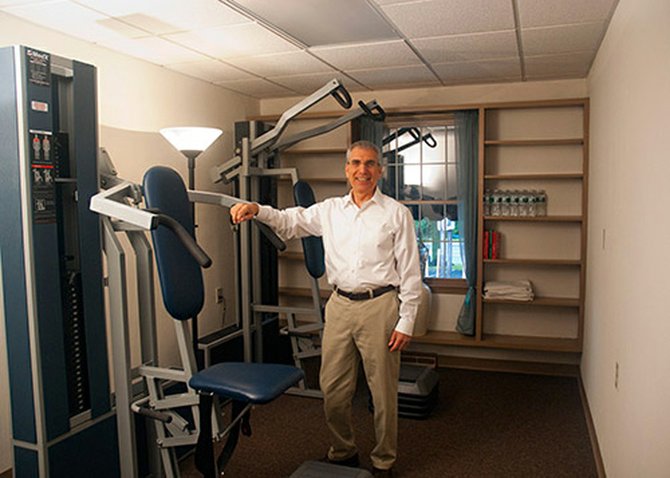 Getting into shape doesn't necessarily require spending hours working out at a gym, because a focused strength training routine makes staying fit no sweat.
Rick Berman opened Studio 2020 Fitness in Loudonville last May, providing clients with a private, one-on-one training environment. Berman helps people enhance their well-being and health through the fusion of leading edge western technology and yoga-style exercises developed in Tibet for rejuvenating the body and mind.
Before opening Studio 2020 Fitness, Berman worked for 30 years in the banking industry and was always physically active. Once he was introduced to the exercise routines he now offers, he saw quick results in gaining strength, unlike other routines he'd done.
After retiring, he wanted to share the information he learned and decided to focus on starting his own business. He has enjoyed seeing clients have similar results as he has.
"People are able to enjoy their lives more, and the quality of their lives have improved," said Berman. "I am constantly getting feedback from people that things they couldn't do before now, they can do and enjoy their leisure time."
A typical session at 2020 Fitness lasts around 20 to 30 minutes, utilizing five to seven machines and specialized weight training equipment. The exercise protocol he uses is based on an osteoporosis study at the University of Florida Hospital. Routines are done in a slow motion, working to fatigue the muscles until someone can no longer lift the weights, which is known as positive failure.
"We build lean muscle, so people aren't getting big and bulky," said Berman. "There are many benefits to building lean muscle, and medical science is more and more taking about how strength training is key to fitness."
Berman is an ACE-certified personal trainer and worked with some of the leading experts in the country on strength training. He finds his exercise program can be appealing to people who've avoided go to a traditional gym or felt it wasn't the right fit.
(Continued on Next Page)
Prev Next
Vote on this Story by clicking on the Icon