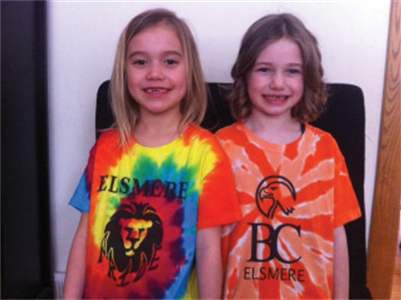 Rob Sawyer started his screen-printing business seven years ago in a rented basement apartment in Albany with a home-built press and light box and several other pieces of equipment that he put together himself.
Over the years, Sawyer's Screen Printing & Embroidery has grown, upgrading equipment along the way, but it remains, at its roots, a family-run shop that prides itself on fair pricing and quality work.
"We're friendly, and we get things done on time," Sawyer said. "I don't want to gouge anyone."
In June, Sawyer, who owns the business with his wife, Erin, set up shop in Delmar, using the extra space to add an embroidery machine to the growing endeavor. He said the recent move from Watervliet to Bethlehem was a good fit — his family had already lived in Bethlehem for four years and were active in the community and schools.
Before opening his screen-printing business, Sawyer tended bar for 18 years but found the hours weren't very conducive to family life. As he thought about other ways to make a living, he turned to something that has always inspired him.
"Growing up, I was always interested in art," said Sawyer, who eventually learned the tricks of the trade from his father-in-law, who owns a screen-printing business in Texas.
Sawyer's Screen Printing does custom printing and embroidery on apparel of all types. They've done jobs big and small (the minimum order is 12 shirts) for businesses, schools and sporting events, as well as family reunions and bridal events. They have printed "spirit" apparel for local schools and athletic wear for races like the Delmar Dash and the Delmar Duathlon, but shirts aren't their only specialty. They can also print or embroider hats, aprons and banners, and most jobs take 10 days or less.
"We have quick turnarounds and will meet the date you need your order in hand," said Sawyer.
(Continued on Next Page)
Prev Next
Vote on this Story by clicking on the Icon