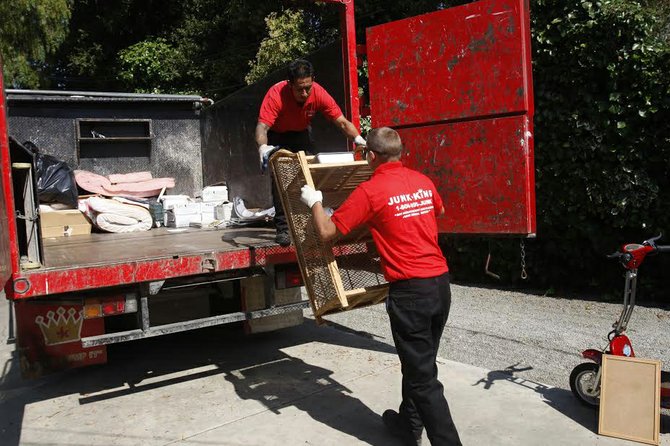 It's all about being green for the Junk King.
Todd Porter, co-owner of the Junk King in Ravena, said the business, which he started in 2011, donates or recycles almost 60-80 percent of the materials hauled off of worksites.
Last year, he estimated, the company recycled over 290,000 pounds of materials. "We saved 290,000 pounds of material from going to the landfill. That doesn't include things we donated. That's a lot of stuff that didn't end up in a landfill," said Porter.
Items that can't be recycled or are still in good shape are donated to local and national charities. Junk King staffers sort out which items are recyclable, which can be donated and which are garbage. The highly trained eyes of Porter's employees are also useful for separating out valuable items and preventing them from being lost forever.
The following are just a few of the services Junk King offers:
• Television recycling
• Yard waste removal
• Foreclosure clean outs
• Appliance removal
• Hot tub disposal
• Computer recycling
• Attic and basement clean outs
• Mattress disposal
• Refrigerator recycling
• Construction debris removal
With quality customer service and honest business practices, it is no surprise Porter has continued to expand his business, adding new trucks and employees. When the business started in 2011, Porter said, he had one truck and one other employee.
One of the keys to the success of his business is customer service and the quality of the employees.
"My guys are highly trained in customer service. They're all clean-cut, professional, background-checked. I'm trying to bring white-collar professionalism into a blue-collar industry," said Porter.
There can be a lot of emotions to deal with when cleaning out a house, and Porter said his employees' compassion and professionalism create repeat customers. Often, people hire the Junk King after a family member has died, divorced or if they are downsizing to a smaller home. Porter said that when they are on the job, they get to know the person they are working for very well, and when that customer needs help again, they ask for the same people by name.
When a customer hires the Junk King, they can be assured that their involvement in the clean up will be little more than simple directions.
"We clear out basements, we clear out attics, we sweep up, we do all the work. The customer just has to point their finger, and we do everything else," said Porter.
Junk King also provides free estimates. For more information, call 621-0510 or visit www.junk-king.com.
Vote on this Story by clicking on the Icon