ALBANY COUNTY — Not only might there be fewer county legislators soon, but they may also be serving shorter terms.
Albany County legislator Peter Crouse, R-Loudonville, on Thursday, May 29, announced he had submitted a proposal to the county Charter Review Committee requesting term limits be included in the revised charter presented to voters. The proposal would allow legislators to serve no more than three consecutive four-year terms, but would not be effective until Jan. 1, 2016. Crouse is serving his first term.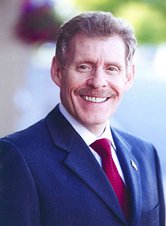 Crouse said the time is ripe to consider adopting term limits, because the charter isn't frequently reviewed.
"The people of Albany County should be given the opportunity to decide on how long county legislators should serve as well as the size of the county legislature," he said, "which the original Charter Review Commission recommended be reduced from 39 to 25 seats."
Spotlight News reviewed how long each legislator has served using information from the county's website and found 12 of the sitting legislators, or 30 percent, have served more than 12 years.
"There are a number of individuals serving a long period of time," said Crouse. "I didn't present this as a partisan issue."
There were 10 Democratic legislators holding their seat for more than 12 years, which is 35 percent of all Democrats. Only two Republicans are exceeding the proposed term limit, which is 20 percent of all Republicans.
Legislator Gilbert Ethier, D-Cohoes, holds the longest tenure at 33 years and Majority Leader Frank Commisso, D-Albany, isn't far behind at 30 years. There are three more Democratic legislators serving more than 20 years.
The two Republicans legislators exceed the proposed term limit include Peter Clouse at 21 years and Deputy Minority Leader Christine Benedict at 20 years.
No legislators would be removed under Crouse's proposal, because years of service would only start adding up at the start of 2016.
(Continued on Next Page)
Prev Next
Vote on this Story by clicking on the Icon