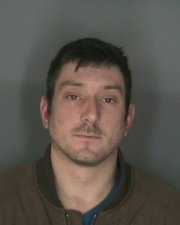 ALBANY — A Middle Grove man was sentenced for illegally entering a New Scotland home last summer.
Albany County Judge Peter Lynch sentenced Sean Descisciolo, 30, to two-and-a-third to seven years in state prison on Tuesday, June 17, according to county District Attorney David Soares. Descisciolo pleaded guilty to burglary in the third degree, a felony, on the same day.
Descisciolo burglarized a Manson Lane home in the Town of New Scotland on Aug. 9, 2013, and stole jewelry from the homeowner, according to police. When he was arrested he reportedly confessed to stealing the jewelry.
Assistant District Attorney Steven Sharp, of the Legal Affairs Unit, prosecuted this case.
Vote on this Story by clicking on the Icon