GUILDERLAND — An outside consultant revealed the blunt truth about Guilderland Central School District: There is too much space not being used.
Every option Paul Seversky, a consultant with the planning service at Madison-Oneida BOCES, offered to more effectively use existing building capacity across Guilderland schools involved closing an elementary school. Four out of the five scenarios would shutter Altamont Elementary School, with the other closing Lynnwood Elementary School. The potential savings for scenarios ranged from $1.16 million to $1.99 million.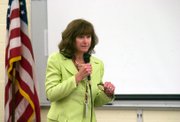 The school district hosted a community meeting Monday, June 16, for Seversky to discuss findings from his building capacity study and some scenarios the district could pursue to reduce expenses. Around 75 people came out for the meeting.
Seversky did take questions, but wouldn't offer his opinion.
"It would really be inappropriate for me to answer a question like, 'OK, Paul. What should we do?'" he said. "I'm a guest outsider. It's your community. It's your kids. It's your money. … It's a road map, but it doesn't really specify what road you should take."
Seversky said all documents the school board and officials have are what has been publically released.
"There is no other document. There is no executive summary. This is it," Seversky said. "Everybody has the same information to take a look at and study and to think about the ramifications that the study suggests, as well as the opportunities and challenges of every scenario."
Districtwide, 22 percent of buildings unused
Unused space at the Farnsworth Middle School trumped every other building in the district.
Approximately 30 percent of the pupil capacity at the middle school is not being used. There were 1,141 students enrolled at the school this year, with it able to serve up to 490 more students.
Seversky recommends having at least 5 percent unassigned for program delivery flexibility. Still, around of a quarter of the middle school isn't being used.
(Continued on Next Page)
Prev Next
Vote on this Story by clicking on the Icon