Dana Doak
Altamont Elementary School teacher
• Hometown: Guilderland
What have you been reading?
Currently, "Centennial" by James Michener.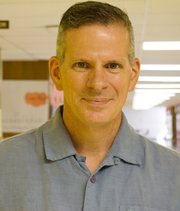 What have you been watching on TV?
I'm a Yankee fan, so I watch the Yankees. I love a lot of the home shows like "Flip or Flop" and "Property Brothers."
What is your favorite movie?
I have three movies I watch repeatedly — "The Godfather," "The Last of the Mohicans" and "Braveheart" — much to my wife's chagrin. She doesn't like any of them.
What are some of your hobbies?
I do run a lot and I swim in the pool at Tawsentha Park almost every day it's open. I enjoy reading a lot. Probably the thing I do most is my wife, Tracy, and I will take day trips.
What would your last meal be?
I like steak and I like lasagna, so I'd take them both. If it were my last meal I'd take a lot of both.
What would be your dream vacation?
I love going to Disney in California or Florida. I went to Disney last summer with just my wife last summer, Tracy, and we had a blast. I like the rides and I like the pace of the day.
What is your favorite local moment?
I coach at the high school, so I really enjoy some of the meets that we've had with track and cross-country. Just last fall, out cross-country team went down to Manhattan and in the biggest cross-country meet in the country Guilderland won our division.
What is something about you that would surprise people to learn?
I enjoy spending time with my wife working around the house. Those days give me a great deal of satisfaction.
Vote on this Story by clicking on the Icon