BETHLEHEM — While this time of year is busy for many accountants and tax professionals, few are also asked to perform a wedding as part of their duties.
The same cannot be said for John Capron, one of Bethlehem's municipal marriage officers and a local tax pro for H&R Block. On Saturday, Feb. 22, Capron married Robert Robles and Ashley Popma of Rotterdam, just minutes after he prepared their taxes.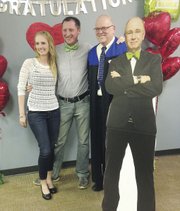 "They were coming in to have their taxes done anyway, so why not kill two birds with one stone," said Capron.
Robles and Popma said they knew their wedding plans may sound odd to some people, but to them it felt right. Robles and his siblings had been visiting Capron since they were teenagers to get their taxes done, and the two families had become close. After Robles and Popma began dating three years ago, Popma also began using Capron for all her tax purposes.
"I was going to marry (Robles') older brother, but my son got married the same day so I couldn't," said Capron.
The entire staff at the H&R Block location at Delaware Plaza worked together to pull off the event. After Robles and Popma had their taxes prepared for free as an early wedding present, the couple was asked to step into a back room decorated in lime green. A cardboard cutout of H&R Block's advertising spokesman, Richard Gartland, stood in the corner and acted as Robles' "best man."
Although the event acted as the legal wedding for Robles and Popma and they read vows each had written for the other, no family or friends were invited to the occasion.
"We didn't want either side to feel left out or cheated in some way because my family is from out of state," said Popma, who is originally from Massachusetts.

(Continued on Next Page)
Prev Next
Vote on this Story by clicking on the Icon