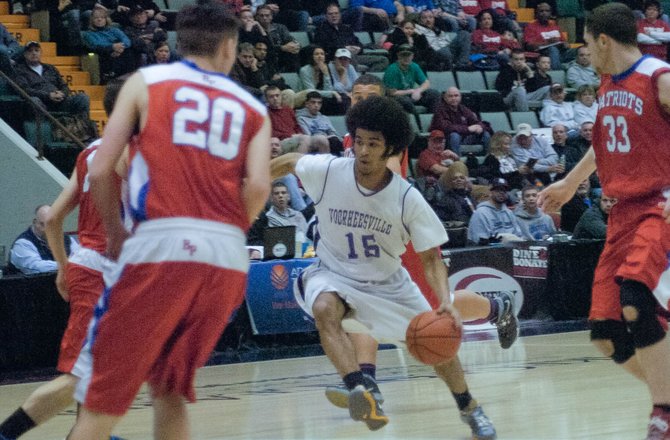 continued — "When I hit, it hurt," said Crawford. "But when I came to my senses and realized I was fine, I got right back up."
"I got nervous for a quick minute," said Burch. "But as soon as I saw him get up with a smile on his face, I was relieved."
Dylan Hensel was another game changer for Voorheesville. The senior guard drained four of his six three-point attempts on his way to a game-high 20 points.
"When you come out and hit your first shot, it gives you the confidence to go and do it again," said Hensel.
"I thought that for him overall was his best game of the year," said Burch. "Offensively, he was patient when he needed to be and looked for the right shot. Defensively, he did a nice job of being where ne needed to be."
There were no game changers for Broadalbin-Perth, though. Ryan Dingman – the Patriots' top three-point shooter – made only two of his nine attempts from beyond the arc. Leading scorer Andre Taylor sank only three of his 15 field goals and went 3-for-8 from the foul line. As a team, Broadalbin-Perth shot 25 percent from the field and 39 percent from the foul line.
"That's a tribute to how hard we worked on defense," said Burch.
Voorheesville will now attempt to get past Ogdensburg Free Academy, which claimed the overall Section X title with Saturday's 86-49 win against Massena. The Blue Devils (21-1) made 17 three-pointers on their way to their second consecutive all-class championship.
Vote on this Story by clicking on the Icon