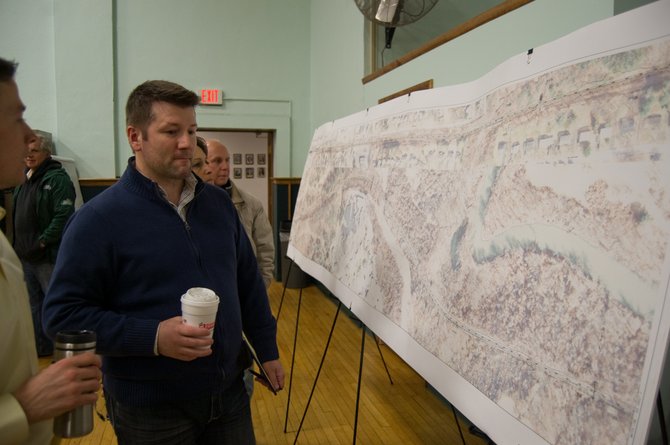 DELMAR — Small steps have opened portions of the Albany County Rail Trail in recent years, but the most expansive and expensive development to date will connect the pathway to downtown Albany.
The Albany County Department of Public works held an open house Thursday, Feb. 20, on the third phase of the Helderberg Hudson Rail Trail at Bethlehem Town Hall. Around 70 people turned out to the presentation on the county's project covering the final phase of its Rail Trail, which spans from Delmar just before the Delaware Avenue Bridge to South Pearl Street in Albany. The project as proposed is estimated to cost $4.18 million, which exceeds project funding by more than $40,000. County officials will develop a revised plan to bring the project within budget.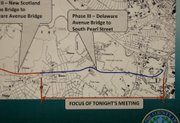 "This phase three section has the majority of the structures, and it's the longest segment of the trail and the most complicated to build," project engineer Christopher Cornwell, of Greeman-Pedersen, Inc., said. "When the project is done, Albany County will own the land and maintain the trail."
Federal funds are provided through the Congestion Mitigation and Air Quality Improvement (CMAQ) Program and total $3.637 million. There is also $500,000 coming from the state Office of Parks, Recreation and Historic Presentation. The county is required to cover 20 percent of the project, or around $825,000.
The multi-use, paved trail would have Americans with Disabilities Act (ADA) accessible parking at the South Pearl Street entrance. Motorized vehicles would not be allowed on the trail.
There were also six future trail access points targeted, including Veterans Park in Delmar, Lincoln Avenue, Snowden Avenue, Old Mason Road, Rockefeller Road and one in Elsmere. If funds are leftover after completing the project, planners pointed to the Rockefeller Road being developed.
"Ideally we want to create as many connections as we can," Edmund Snyder, project manager for Greeman-Pedersen, Inc., said. "Rockefeller Road, once that bridge comes down, this would be an ideal location to put some sort of switch-back leading down to the new trail system."
(Continued on Next Page)
Prev Next
Vote on this Story by clicking on the Icon