NEW SCOTLAND — Raising the LeVie barn was a townwide effort 115 years ago, and relocating the building will likely take a similar effort.
Randy Nash, of Cazenovia, was inquisitively pacing through the historic barn in New Scotland, with a flashlight in hand on the afternoon of Friday, Feb. 21. As Nash waited for Town Board member Dan Mackay to arrive, he quietly sized up the 60-foot wide, 120-foot long and 60-foot tall barn Frank Osterhout built in 1898.
Photo Gallery
Inside the LeVie Barn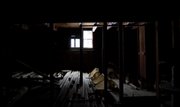 Spotlight News toured the LeVie Barn in New Scotland on Feb. 21, 2014, and captured views from the first and second floor of the historic building. The Colonie Country Club uses the facility to store maintenance equipment and supplies. Randy Nash, of Cazenovia, assessed the barn Friday to determine how relocation efforts could proceed.
Rain was pouring into the barn through holes in the roof, with the ground outside being a mixture of puddles and ice. A sign on the barn warned not to park alongside it, with snow falling more rapidly off the slate roof. There is also the risk of a shingle joining the snow in its plummet.
Light pierced through some holes in the back wall, illuminating sections of the sparsely light structure serving as a storage facility for maintenance equipment and supplies of the Colonie Country Club. Some long unused maintenance equipment sat upon the second floor, which requires a ladder to reach. The original wooden ladders, stretching up to the ceiling in some spots, were sawed off until the start of the second floor, because kids were getting into the barn at one point and climbing up the rungs.
Nash has spent the majority of his life inside barns across the state, but the LeVie barn was unlike any historic barn he's stepped inside. Mackay tapped Nash to evaluate how the structure could be relocated and roughly what it might cost.
"For years I just repaired barns, and I have taken barns apart and put them back together," Nash said. "I have moved over 60 buildings … some of them I documented every piece in the building, even the pegs went back in the exact same hole. You wouldn't know the building was taken apart."
(Continued on Next Page)
Prev Next
Vote on this Story by clicking on the Icon