continued — Nash said the barn overall is in "excellent shape," with a few areas needing repairs. There are some negative aspects that would work against a smooth relocation, such as the siding being wire nailed and the flooring and roof deck being tongue and groove construction. The slate roof would also be scrapped
"It could be shortened lengthwise and it could be shortened heightwise, so it leaves you flexibility there and still maintains its aesthetic character," Nash said.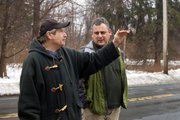 Ironically, the barn's unusual height and footprint is a detriment toward full-scale relocation, according to Nash. The massive size of the historic barn is often noted as a key reason for its preservation.
The barn is an outlier to the state's agricultural history because it doesn't follow trends of the time, according to Nash. In terms of state history, the barn has little historical significance, he said. Its tie to local history and visual appearance, along with uniqueness, play into its value, Mackay said.
Mackay said Nash roughly estimated the cost to relocate the whole barn to be upwards of $500,000. Nash said estimates from different contractors are often "hugely different." Demolishing the barn is estimated to cost around $10,000.
"I have never seen one this big be dismantled and put back together," Nash said. "There are some out in Ohio that have been done, and they spent a lot, a lot of money on those."
Mackay said he was "intrigued" to hear the flexibility available when relocating the structure, with the length and height available to be altered.
"That I think is of interest in finding an appropriate reuse and relocation for it," Mackay said. "Size is a factor in cost and cost is at this point the major obstacle."
He said the cost to relocate the barn is within what he envisioned and hopes to seek through state funding. Reducing the size through relocation would lower the cost.
"I haven't heard anything today that says don't do it," Mackay said. "There have been several inquiries about hosting the relocated barn and of those inquires no one has yet said, 'It needs to be smaller.'"
Vote on this Story by clicking on the Icon