• Title: Owner of Reel Seafood in Colonie
• Hometown: Niskayuna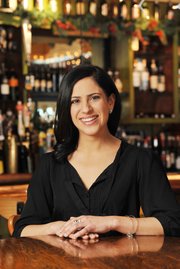 What are you listening to these days?
I grew up listening to classic rock so Led Zeppelin, The Beatles, my mom has it all on vinyl so that was my first love that I still listen to. Nirvana is one of my favorite bands, 102.7 is one of the stations I'll throw on for the alternative. If I'm working out I listen to Latin dance music.
Reading?
Right now, I'm reading "The Last Laugh" by Arjuna Ardagh, I have about a quarter left.
Watching on TV?
I don't really watch a lot of TV. In my first apartment on Madison Avenue, I didn't have TV or Internet, so I fell into coming home, unwinding and reading. At the gym, I'll put on the Food Network. I've seen a couple episodes of "Modern Family," and that's a funny show.
What is your dream vacation?
It's two-fold. I've experienced both of my dream vacations. One was five years ago when I went camping. It epitomized that completely disconnected from reality. I love camping, hiking and being outdoors. The other was going to Greece with my whole family, cousins, aunts, uncles, my brother and that was great being surrounded by family in our ancestral homeland.
What are some of your hobbies?
Yoga. In my free time, I utilize it as an important tool in my life. I love yoga and try to practice in some capacity. Reading — even if it's just five pages before I go to sleep. I enjoy going out to out dinner with my friends, even if it's just once every few months.
What would your last meal be?
I would have to go with being in the village in Greece, and my last meal would be my aunt making her famous dish Greek pasta and sitting with 20 members of the family and eating vegetables out of the family garden.
What is your favorite local moment?
The ribbon cutting last Tuesday was pretty pivotal. My father was here and it was his first introduction to the new design, it was quite possibly one of my favorite moments professionally speaking. My mom and family were here too. This was my dad's restaurant for 30 years, so to see him walk in and be so overcome was just amazing.
Vote on this Story by clicking on the Icon