Jean Cataldo
Guilderland Town Clerk
• Hometown: Albany
• Lived in town: 30 years, the majority of my life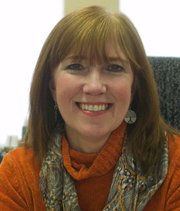 What are you listening to these days?
I love the "Phantom of the Opera" and so, of course, I bought a CD and I play that a lot. I also have the "Les Misérables" album.
What are you reading?
I'm reading the town clerk manual because that is what I need to read, learn and make my new best friend. The previous manual was from 1996, and so I am so lucky that they updated it; it's the 2013 version. I'm also reading "iPhone 5 For Dummies."
What are you watching?
I find "Arrow" very entertaining, and I just took a liking to it. I also like "Blue Bloods" with Tom Selleck; that is a great show. I like police dramas.
Describe what your dream vacation would be
My dream vacation would be a cruise to Alaska. I always thought I would never, ever want to go to Alaska because I would think of it as a place that would be very cold, and I much prefer warmer weather. Everybody just raves about it.
Who would you most like to meet, dead or alive?
I would like to have known my grandparents on my mother's side, because they both died when I was very young. There are not a lot of pictures available of them so I don't really even get a flavor of what they were like.
What is your favorite local moment?
I loved the Guilderland's bicentennial parade in 2003. It ended up being a beautiful day and a lot of people participated in it. I participated in the parade (as receiver of taxes), and it was just so much fun. Seeing our town residents along the roadside of Western Avenue to come and show their pride and spirit was great.
What is something most people would be surprised to know about you?
I like decorating cakes, and I don't have a lot of artistic talent, but I was very pleased with some cakes that I've made over the years. Once I had to imitate an OTB ticket … and I've made wedding cakes.
Vote on this Story by clicking on the Icon