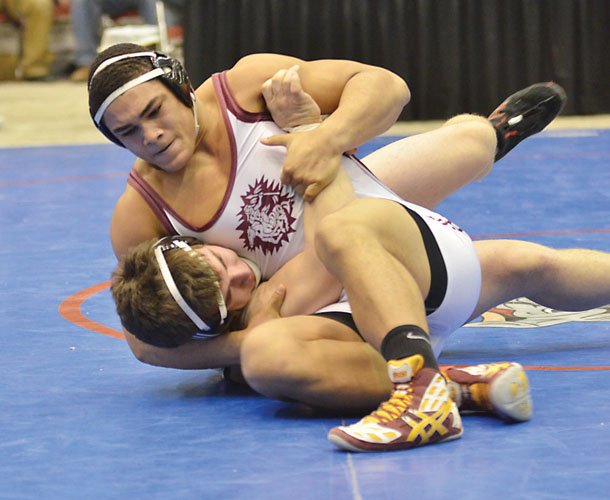 Honorable mention: Shaker boys swimming
The Blue Bison showed promise this season by placing second at the Section II Division I meet and sending seven swimmers to states.
Sophomore William Matz led the way for Shaker at Sectionals by winning the 200-yard individual medley and the 100-yard breaststroke. Sophomore Mark Enright, sophomore Zeeshan Irani, junior Andrew Semmes and senior Nikos Moisidis also teamed up to win the 400-yard freestyle relay. Semmes, Moisidis, Irani, sophomore Nicholas Buff and brothers Mark and George Enright also qualified for states in individual events.
Honorable mention: Colonie wrestling
The Garnet Raiders turned in a second-place finish at the Section II Division I Class I tournament and finished fourth at the Division I championships, thanks to a group of four grapplers.
Lightweight Golan Cohen and heavyweights Isaiah Cooks, Wayne Burt and Austin DiCerbo all won Sectional titles to earn trips to the state tournament in Albany. Cohen returned to states, while Cooks, Burt and DiCerbo made their debuts at the championship tournament. Burt had the fastest win in the Sectional finals, as he pinned Bethlehem's Chris Tangora 41 seconds into their 220-pound championship bout.
Male individual athlete: Greig Stire
The Christian Brothers Academy basketball team went as far as Stire could take them. The senior center averaged 18.9 points per game to lead the Brothers to a third-place finish in the highly-competitive Big 10 and an appearance in the Section II Class AA quarterfinals, where they lost to Guilderland 54-43. Stire had eight games where he scored 20 or more points, including a 41-point night in a 69-65 loss to Big 10 champion Catholic Central Jan. 7.
Female individual athletes: Amanda Chrzanowski and Tiera Gulum
It was too hard for Grugan to see one of his top bowlers be recognized without the other getting equal billing.
"Tiera was our leader pretty much the whole way through," said Grugan. "She had a higher average than Amanda, and she bowled a 300 (a perfect game)."
While Gulum was consistent the whole season, Chrzanowski had flashes of brilliance highlighted by her state tournament performance, which included single-game scores of 258, 230 and 260.
Grugan said what Chrzanowski and Gulum did on the lanes was often echoed by their younger teammates.
"When they're bowling good, the younger bowlers tend to bowl good," said Grugan.
Vote on this Story by clicking on the Icon