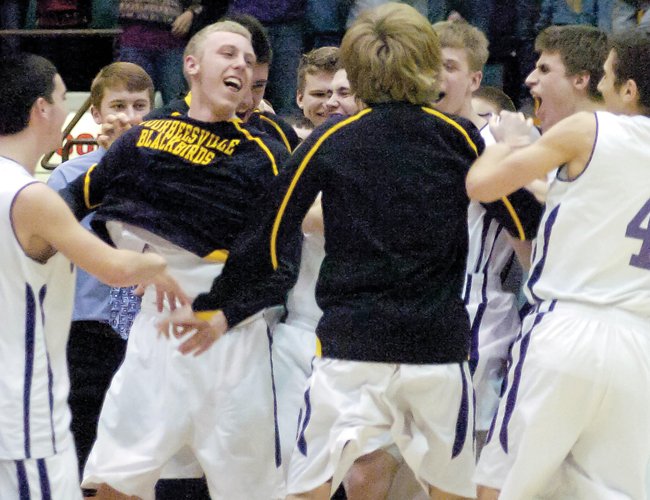 Voorheesville loses its entire starting five plus reserves Slater Nolan and Jack Wakeley to graduation, but Parry and Meaux lead a talented junior class into next season.
"I had seven juniors up on varsity this year that are going to be ready to go next season," said Burch. "You never know what to expect, but I'm excited about this group."
Runner up: Guilderland boys basketball
The Dutchmen had the balance and the defense to do great things during the 2013-14 season, but Green Tech denied them their ultimate goal of winning the Class AA Sectional title by pulling away late for a 65-56 victory in the final.
Guilderland's starting lineup featured five players who could each go off on a 20-point night if they chose to. Sophomore guard Andrew Platek led the way with an average of 15.9 points per game, but seniors Marc DuMoulin, Vincent Simeone and Matt Cerutti all averaged more than 10 points per game and Billy Floyd came close at nearly nine points per game.
Honorable mention: Bethlehem girls basketball
The Lady Eagles shook off midseason injuries to Gabby Giacone and Erin O'Donnell to reach the Class AA Sectional semifinals, where they fell to Big 10 champion Albany 52-48.
The revelation for Bethlehem this season was sophomore guard Jenna Giacone. The younger Giacone sister averaged 13.5 points per game and stepped up when needed, including an 18-point performance in the semifinal loss to Albany.
Male individual athlete: Gunnar Zemering
Bethlehem's swimming sensation had another standout season, as he earned All-American status with a time of 20.72 seconds in the 50-yard freestyle at the state championships. The only swimmer in New York who was better was Ithaca's Ryan Nicholson, who claimed the 50 freestyle state title over Zemering with a time of 20.25 seconds.
Female individual athlete: Grace Smith
The Bethlehem junior claimed her first state track and field title when she won the public school division championship in the high jump. Smith cleared the bar at 5 feet, 7 inches in fewer attempts than East Islip's Faith Penny to win the public school title.
Vote on this Story by clicking on the Icon