GUILDERLAND — Listen very long to any area school board meeting, and most likely talk of Tech Valley High School will come up, assuming the district is still sending students.
Recently, some Guilderland Board of Education members have voiced concern over continuing to send students to Tech Valley High School. During a tight budget, spending additional money on a single student while reductions affect many children can be hard to justify. Tuition to TVHS is about $13,000 per school year, but state aid covers around 55 percent of the cost.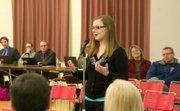 TVHS Principal Dan Liebert on Tuesday, March 18, gave a presentation to the school board after some members had requested more information on the regional school.
Liebert said the school aims to teach to a different set of learning outcomes, which is what industry and academic leaders said should drive the school.
"It is not that Tech Valley High School is better or superior," Liebert said. "It is attempting to learn how to teach to those set of skills that both higher education and business are encouraging us to teach."
In September, the school is moving to the College of Nanoscale Science and Engineering, which is actually within the Guilderland school district. Liebert said the school has the capacity to hold 40 students in each grade level, but it currently has about 30 students per grade.
"Fingers are crossed that we may be hitting our first full enrollment class for our incoming ninth- graders," Liebert said.
The program takes a student-centered learning approach and students make around 150-160 presentations annually to their class. Liebert said this allows students to build confidence speaking in front of a group and learning how to best convey their ideas to others. Students are also responsible for giving feedback to each other, too, along with teachers.
(Continued on Next Page)
Prev Next
Vote on this Story by clicking on the Icon