A Shaker High School alumna who is currently a senior at the University of Chicago recently received a grant that few people in the world have had the privilege of accepting.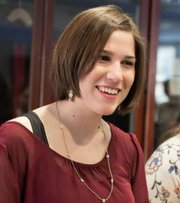 Kaylee Steck graduated from Shaker in 2010 and has taken a less traditional path to further her education by being awarded the Fulbright Scholarship to do research in Morocco.
Majoring in Arabic language and Islamic Civilization with a focus in economic history, Steck has taken every opportunity to travel to the places where she can actually be a part of the culture she is studying. On top of this accomplishment, Steck has been on the dean's list at the University of Chicago all four years, and she's a member of Phi Beta Kappa and the University's Maroon Key Society. The society recognizes students based on a distinguishable record of student leadership.
Her father, David Steck, said that his daughter has always been ambitious and determined.
"She's very intense and very driven. It doesn't matter what she does. Whatever she's doing, she will do to the best of her ability. She is so dedicated and never stops once she sets her mind on something." said Steck.
With all the different projects Steck is involved with, that drive is necessary to keep her going. Steck has been an intern or assistant on numerous projects at seven organizations. She's also an assistant for the Middle Eastern Music Ensemble, as well as singing in the ensemble.
Her father isn't really sure where her interest in the Middle East came from, but thinks it could have had something to do with the education she received in North Colonie and her upbringing.
"This is something she developed completely on her own. Perhaps it was someone at Shaker that sparked her interest in the Middle East. My family talks a lot about politics and world affairs, so that may have been something that spurred her on," said David.
(Continued on Next Page)
Prev Next
Vote on this Story by clicking on the Icon