COLONIE — The Memorial Concert Band of Colonie is getting ready to kick off its summer schedule with a special guest for its annual pops concert.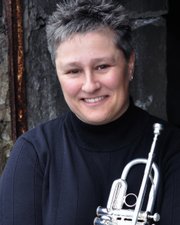 Trumpeter Cathy Sheridan will be one of the highlights of the show at the Mark Cornell Auditorium at Central Colonie High School Wednesday, May 21, at 7:30 p.m.
"The idea of having a Pops concert is relatively new and came on when Doug Dougherty came on as the conductor. He dedicated the May concert as a pops concert. They draw on some of the lighter music and some of the Broadway shows. It's stuff other than you would get from a traditional concert," said president of the Memorial Concert Band David Knorr.
Dougherty has assembled a program ranging from light classical pieces by renowned band composer Clifton Williams to marches such as "Thunder and Blazes" and "American Patrol," as well as music originating in radio, television and the movies. Those pieces include selections from the Walt Disney movie "Mary Poppins," "A Symphony of Sit-Coms," which will rekindle memories of classic TV, and an arrangement of the Beatles classic "Sgt. Pepper's Lonely Hearts Club Band."
Sheridan is a classical and commercial musician who has performed in Southeast Asia, Australia and North America, as well as renowned venues such as Lincoln Center and The Banff Centre.  
Sheridan said she didn't start out on trumpet as a child. It was actually her second choice, and she just kind of fell into it.
"I started on the saxophone in the third grade, but had a typical kid accident and broke my collarbone using a backyard gym set.  With the injury, I couldn't hold the instrument up any more, so my sax career was quickly derailed.  The following year I saw this shiny instrument, which ended up being a trumpet.  My mother wanted me to play the clarinet, but I couldn't be persuaded, so trumpet it was," said Sheridan.
(Continued on Next Page)
Prev Next
Vote on this Story by clicking on the Icon