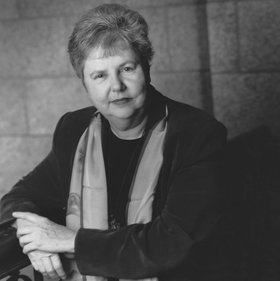 Katheryn Katz
unknown - unknown
DELMAR - Katheryn D. Katz passed away peacefully, with her two children at her side, on May 30, 2012, after a brave battle with breast and brain cancer. She was born September 3, 1933, in Chicago, Illinois. She received her undergraduate degree from the University of California, Berkeley. After a decade-long break to raise her children, Kathy went to law school, starting at the University of New Mexico and graduating from Albany Law School in 1970. Her first position after law school was as a Reginald Heber Smith Community Law Fellow, which reflected her lifelong concern with justice for the less powerful and affluent members of society. Kathy then entered private practice and was the founding partner of Powers & Katz, one of the first female law firms in New York. She also served as an assistant professor at Rensselaer Polytechnic Institute.
Kathy spent the vast majority of her career as an award-winning member of the faculty of Albany Law School. When she joined the faculty in 1975, she was one of only two women members. She taught one of the first domestic violence law courses in the nation, as well as other courses in the areas of constitutional law, family law, children in the law, and women in the law. She was also a role model, inspiring and mentoring students and alumni alike. Professor Katz published more than 30 articles and book chapters on family law and constitutional law, with research and publication interests including reproductive rights of minors, cloning, and embryo donation. She received a Kate Stoneman Award in 1995, and she was honored to be the first permanent Kate Stoneman Chair in Law and Democracy, a position she held from 2007 until her retirement in 2009.
Kathy served on numerous committees and commissions, including the New York State Governor's Commission on Domestic Violence, the Civil Rights Committee of the New York State Bar, the New York State Bar's Special Committee on Biotechnology and the Law, the Board of Directors of the Legal Aid Society of Northeastern New York, and the Committee on Research on Human Subjects at the Albany Medical Center.
Kathy loved reading, the performing and visual arts, traveling, and—most of all—time spent with family and friends. When asked her most-prized accomplishment, the answer was always the same: her family. She loved her family and friends unconditionally and deeply. She is survived by her beloved children: her son Michael (Jennifer Hobart) of San Francisco, her daughter Elizabeth of Glenmont, New York, and her cherished grandchildren: Sarah of Cambridge, Massachusetts, and Matthew of Sacramento, California. She is also survived by her sister, Anne C. Smith of Brentwood, California, and a host of other relatives, including her grandkitties, Maddie and Charlotte.
A celebration of Kathy's life will take place at Albany Law School in the Dean Alexander Moot Courtroom on Saturday, June 16, at noon with a reception to follow. All family, friends, former colleagues, students, and classmates are welcome. Contributions in Kathy's memory may be directed to the Katheryn D. Katz Memorial Fund, which will support women and multicultural students at Albany Law School, 80 New Scotland Avenue, Albany, NY 12208.
www.applebeefuneralhome.com