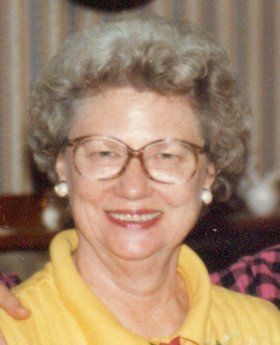 Viva Klim
unknown - unknown
Obituary of Viva L. Klim
DELMAR – Early Sunday morning March 18, 2012, Viva Lela (Hunt) Klim entered into eternal peace after a brief hospitalization at St Peters Hospital. Viva was 93 years old, and had led an involved life in her community of Delmar, NY until health issues in her later years.
She was born in Gloversville, NY October 2, 1919, the daughter of Bessie (Peterson) and Leigh Hunt. Viva married John F. Klim in Albany on February 14, 1943, and after WWII, she and John settled in Delmar to raise their growing family of 4 boys. She was a long-time member of the Bethlehem Business and Professional Women's organization, beginning with her first career in the mortgage department of Albany Savings Bank. Viva's life then focused more around her four boys: Brian, Jack, Dennis, and Tom. She was a past President of the Tri Village Little League Women's Auxiliary and taught Sunday School at the First United Methodist Church in Delmar. After raising her boys and seeing all four of them go off to college, she spent many years working in an administrative capacity in a Delmar obstetrical practice. Vi was predeceased by her beloved husband, John. Vi loved spending time with her grandchildren and provided much loving support to her boys and their families.
Viva is survived by her sons Brian (Susan), Jack, Dennis, and Tom. She is also survived by her grandchildren Zachary (Philip Howse) Klim, Courtney (JJ) Mazzone, Sean Klim, Brandon (Sunni) Klim, Valerie Klim, Megan Klim and Thomas Klim , Jr.
Relatives and friends are invited to call on Wednesday, March 21st, 2012 from 12 noon to 2:00 pm at the Applebee Funeral Home, 403 Kenwood Ave., Delmar. A service will follow at 2 pm at the funeral home. Burial will be in Bethlehem Cemetery. Contributions in Viva's memory can be made to the Five Rivers Environmental Center, 56 Game Farm Rd., Delmar, NY 12054, where she spent many enjoyable hours, or to the Tri Village Little League, P.O. Box 164, Delmar, NY 12054-0164.
www.applebeefuneralhome.com